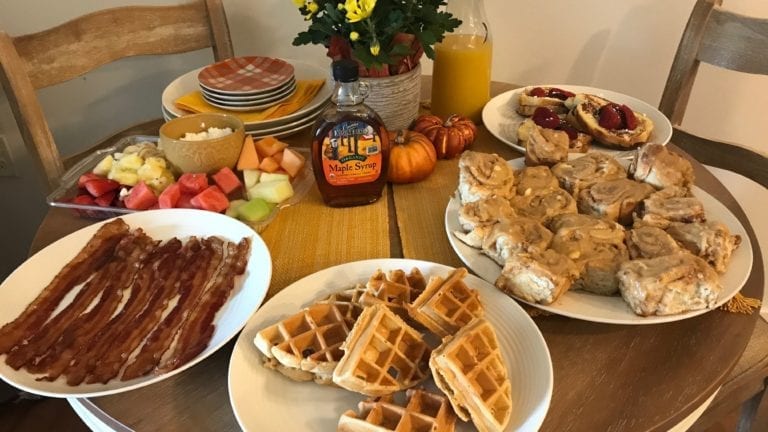 "Brunch is a versatile meal because you can play on both sweet and savory in your dishes." — Marcus Samuelsson
Weekends are the perfect time for gathering around a variety of delicious food, and what better way to gather than by having brunch? But you don't have to go out to achieve brunch goals. In fact, having brunch at home is the perfect option for a weekend meeting of friends or even a great excuse to stay in your pajamas a little longer with your family. We compiled a list of delicious brunch recipes and created a brunch fit for any weekend. (All ingredients used can be found at the Common Market.)
First on the menu are the entrees. It's hard to narrow down the sweet and savory choices for brunch to create balance. Delish's Ham & Cheese Brunch Bake was the savory dish of choice this time around. While this particular menu item took some time to cook—at 45 minutes—it was easy to put together. This is one menu item you can also create in advance and put in the fridge until brunch the following day.
The end result was delicious:
There was also a lot leftover with the Bake, as it fills you up quickly. These leftovers can be portioned into single servings and popped into the microwave in the morning for breakfast on the go.
The sweeter entrees were Delish's Peanut Butter & Jelly Cinnamon Rolls and Hazelnut Spread & Cream Cheese Stuffed French Toast.
Eating the cinnamon rolls was like eating a warm, slightly sweetened PB&J sandwich. We used strawberry jam, and the peanut butter frosting was a delightful addition. They were a perfect complement–not too sweet but not too savory.
The stuffed french toast was a personal creation using Nutvia's hazelnut spread.
The spread was mixed with four ounces of Organic Valley Cream Cheese and a touch of powdered sugar. The french bread was dipped into the egg mixture–two eggs, cinnamon, and milk–and browned slightly before the hazelnut spread combination was added. Then, the other spread slice was added on top and gently pressed down, creating a sandwich.
What goes well with these main courses? Bacon and fruit of course! We used Delish's recipe for Coffee-Glazed Bacon and set aside some cut fruit–strawberries, watermelon, cantaloupe, honeydew, pineapple, and banana–and cottage cheese.
Although we made these recipes for one big brunch meal, any of them would make a delicious weekend breakfast on their own.
Do you "do" brunch? What is your favorite brunch meal?