Love The Common Market Café? Let us cater your next event!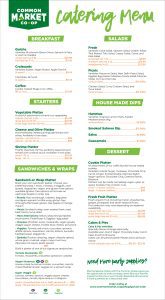 Ordering
Catering orders may be placed in-store, by emailing catering@commonmarket.coop. If you have any questions, call the store at 301-663-3416.
We require a minimum of 48 hours to fill catering orders. A longer lead time may be required for custom and specialty orders, large orders, or holiday catering.
Payment and Pickup
Large or specialty orders may require a partial deposit. Full payment will be required at time of pick-up. We require 48 hours notice to receive a full refund for canceled orders. Menu and prices are subject to change due to product availability.
Allergens
We want you to know that foods prepared in our café kitchen area MAY CONTAIN trace amounts of peanuts, tree nuts, soy, milk, eggs, wheat, fish, or crustacean shellfish due to shared equipment. We understand that every customer has different dietary needs and/or restrictions, and we work hard to meet those needs. If you have dietary needs and/or restrictions, please let our friendly café staff know so we can do our best to accommodate your needs.