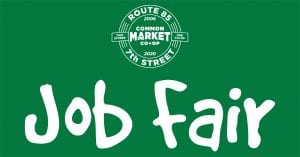 Thursday, August 20th, 9 am – 2 pm
Join us at 5728 Buckeystown Pike in our back parking lot to meet our hiring team!  We'll be interviewing and providing job offers on the spot.
Unable to pre-register? Pick up an application from our Service Desk or apply on-site during the job fair!
Masks are required & social distancing rules must be followed.
People make a co-op—from our owners, to our shoppers, to our community members, to our staff. We eagerly seek talented, upbeat, principled people to bring on board. If your interests are in good people and good food, then working at the Common Market might be for you. Learn about food, health, and co-ops, and join a team of like-minded people.
For more information on what it's like to work at the Common Market, visit our culture page. To find out more about the benefits we offer, visit our benefits page.
Interested? Check out our other current job openings or join us at our upcoming Job Fair!
If you need assistance with developing your resume, you may follow this resume template.
We are an Equal Employment Opportunity Employer.