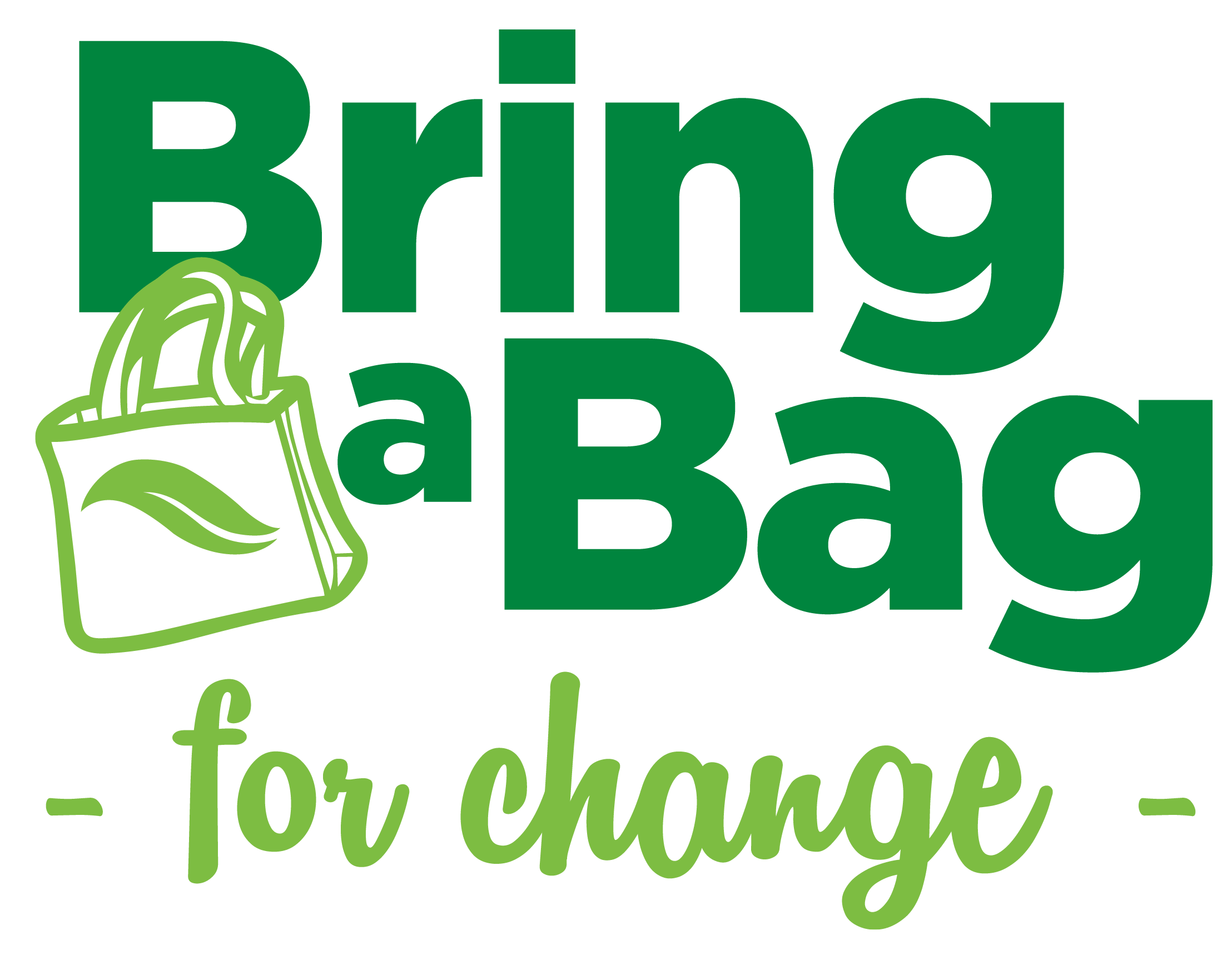 Bring-A-Bag is back and has gone digital!  Common Market's Bring-a-Bag for Change Program encourages shoppers to reuse bags and reduce waste by offering a 5¢ charitable donation for each reusable bag used at checkout.  This program is a win-win—it keeps single-use bags out of the waste stream and gives back to organizations in the community.
Each quarter we select four non-profits to support through this program. These non-profits represent the categories of Children & Families, Environmental Protection, Animal Welfare, and Community.  At the end of the quarter, donations are combined with a percentage of sales from a chosen day, then a check is mailed to each non-profit.  Through our new digital donation process, your contribution will be divided evenly between the four local charities.
Below are the selected non-profits for this quarter:
---
Since 2007, your co-op has…
Saved 2,528,482 bags from the waste stream and donated $185,452 to local charities!
In 2019 alone we collectively raised $21,112 for local non-profits!
Take a look at the impact you made in your community:
Maryland Pesticide Education Network- $613.50
Frederick Health Hospice- $613.50
Student Homelessness Initiative Partnership (SHIP)- $613.50
Frederick County Humane Society- $613.50
Housing Authority of the City of Frederick- $581.73
Chesapeake Bay Foundation- $581.73
Advocates for Homeless Families- $581.73
Poplar Spring Animal Sanctuary- $581.73
Showing Up For Racial Justice- $498.00
Potomac Conservancy- $498.00
I Believe in Me- $498.00
Animal Welfare League of Frederick County- $498.00
While the Bring-A-Bag program was paused due to Corona Virus, Common Market donated $1,120 worth of non-perishable goods to the Frederick Health Hospital Staff to support their tireless work keeping us safe and healthy!
Student Homelessness Initiative Partnership -$1,509.85
Future Harvest -$1,456.75
Baltimore Animal Rescue & Care Shelter -$1,899.60
Daybreak Adult Day Services -$1,318.30
Red Wiggler Community Farm – $2,108.57
Children of Incarcerated Parents Partnership – $2,247.84
Woman to Woman Mentoring – $2,196.63
Frederick Friends of our County Animal Shelter – $2,587.88
Frederick Mental Health Association – $1,242.12
Maryland Pesticide Education Network – $1,298.94
Tails of Hope – $1,357.98
Blessings in a Backpack – $1,303.28
Heartly House – $1,203.36
Seed of Life Nurseries – $1,172.38
4-H Therapeutic Riding – $1,174.12
Hospice of Frederick – 1,311.05