At the Common Market, "local" refers to products grown or produced within 150 miles of the co-op. We partner with sustainable local farmers and producers to provide our community with the freshest, most nutritious and delicious whole foods in Frederick. This isn't limited to fruits and vegetables—local offerings can be found throughout the store.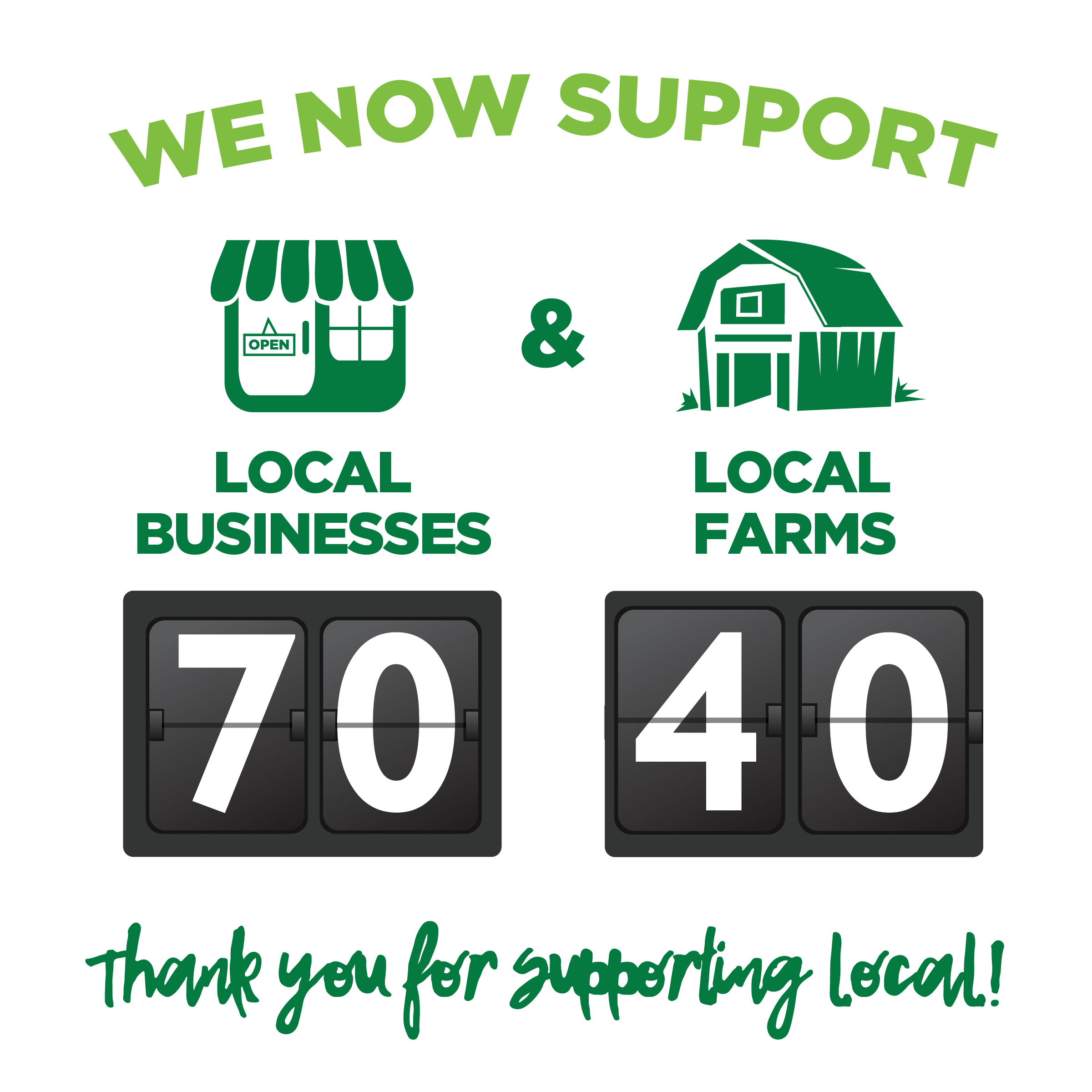 Homegrown Dairy, Eggs, & Tofu
The Common Market Grass-Fed Beef (Raised by Locust Point)
Open Book Farm – Myersville, MD
Sho Nuf Turkeys – Fulton, MD
Bell and Evans Poultry – Fredericksburg, PA
Olli – Mechanicsville, VA
Plainville Farms – New Oxford, PA
Joe Jurgielewicz & Son – Shartlesville, PA
Good Faith Farms – Middletown, MD
Bell & Evans – Fredericksburg, PA
Carousel Pigs Farm – Hillsboro, VA
Locust Point – Dover, PA
Autumn Olive Farms – Waynesboro, VA
Hoffman's Quality Meats – Hagerstown, MD
Koch's Turkey Farm – Tamaqua, PA
Meadow's Pride – Monterey, VA
Farmer Focus – VA Farms (sources from nearly 50 farms in VA, some of which fall outside our 150 mile "local" radius)
Maryland Lump Crabmeat – Chesapeake Bay
Maryland Oysters – Chesapeake Bay
Wild Blue Catfish – Chesapeake Bay
Michele's Granola – Baltimore, MD
Really Raw Honey – Baltimore, MD
Dublin Roasters – Frederick, MD
Ester's Granola– Silver Spring, MD
Route 11 – Mt. Jackson, VA
Toigo Orchard Salsa – Shippensburg, PA
Neat– Lancaster, PA
Virginia Chutney Company – Flint Hill, VA
Torchbearer Sauces – Mechanicsburg, PA
Hale's Homemade Salsa – Baltimore, MD
Natural Zing – Mt. Airy, MD
Zoe's Chocolate – Frederick, MD
GF Jules – Columbia, MD
Sweet Farm – Frederick, MD
HEX Ferments – Baltimore, MD
La Pasta– Silver Spring, MD
Snowing in Space– Charlottesville, VA
Picnic Gourmet Spreads – Bethesda, MD
Tadah Foods – Alexandria, VA
Mayorga– Rockville, MD
Hays Apiary – Smithsburg, MD
S&S Maple Camp – Corriganville, MD
Red Rooster – Floyd, VA
Catoctin Coffee – Lovettsville, VA
Brewing Good – Savage, MD
Zeke's– Baltimore, MD
Rise Up – Easton, MD
Easy n Tasty Jollof Rice – Montgomery Village, MD
Tastes Better Than Yours African Stew – Bowie, MD
Broho Hot Sauce – Greencastle, PA
Mason Dixie Biscuits – Washington, D.C.
Go Mix – Washington, D.C.
Dolcezza – Washington, D.C.
Kombucha Lady – Thurmont, MD
Blue Ridge Bucha – Waynesboro, VA
Baba's Brew – Phoenixville, PA
Fathom Sauce – Frederick, MD
Harrisburg Dairies – Harrisburg, PA
Chesapeake Bay Roasting Co. – Crofton, MD
M'Panadas – Rockville, MD
Pinkava Coffee – Capitol Heights, MD
8 Myles – Washington, D.C.
Tessa Mae's – Annapolis, MD
Artisan Breads & Pastries
Download a print-friendly version of the list here.
Check out our local farms map! Click on each marker for info about the farms that we source from.
Check out our local businesses map! Click on each marker for info about the local businesses we support.