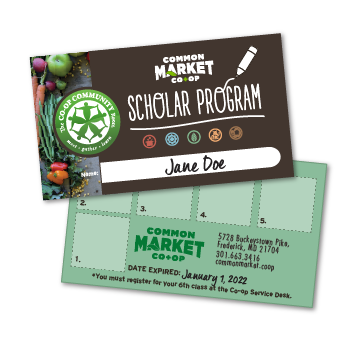 The Common Market Scholar Program was created to encourage and reward those looking to learn from their community. With a Scholar Card, when you attend five Community Room classes you get your sixth Community Room class free up to $25! Scholar cards are available in classes and at the Customer Service Desk and are stamped in class.
All you need to do is present your card to receive your stamp. Once your card is full, use it as payment when registering for your next class! Registration for your free class must take place at the Customer Service Desk. Your free class value is up to $25 and can be applied to classes that cost more than $25.
Frequently Asked Questions:
Yes, cards expire 2 years after the date of the first class attended. (This date will be written on your card at your first class.)
Do I need to be an owner?
No. Scholar cards are available to everyone, not just owners.
Are the cards transferable?
All 5 classes must be attended by the card holder. Once the card is full, it is treated as a class pass and can be given to anyone the card holder chooses.
How do I redeem my free class?
To redeem your free class, you must register for your desired class at the Customer Service Desk. We cannot currently process class passes or completed Scholar Cards online.
What happens if I lose my card?
New cards are always available at the Customer Service Desk. Unfortunately, we cannot reissue previously earned stamps.
I have two cards. Can the stamps be combined?
Yes. If you forget to bring your current Scholar Card with you to a class and you receive a new one, they can later be combined as long as the name on the front of the cards match.
Please contact the Education & Event Coordinator, if you have any further questions: education@commonmarket.coop