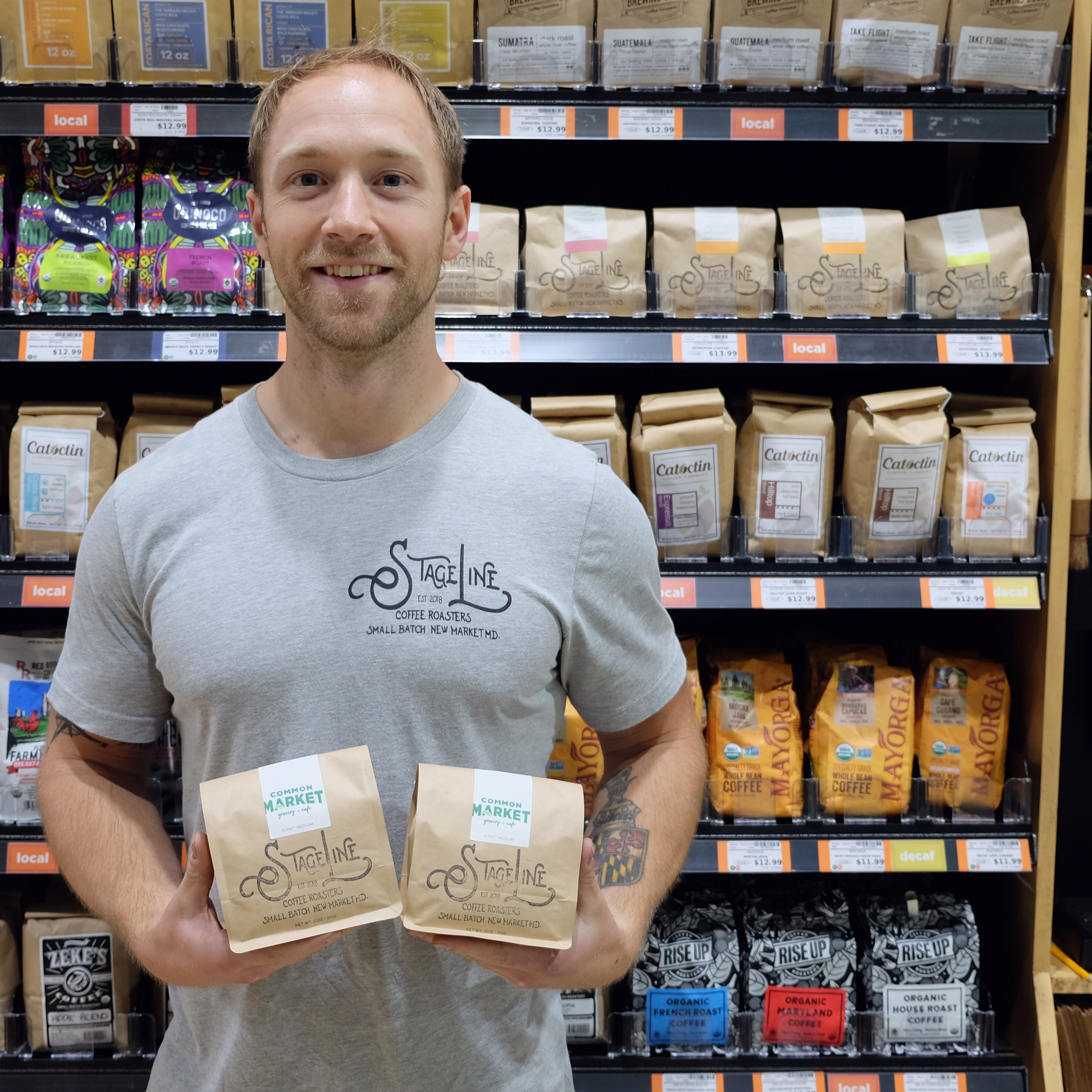 Recently, we got a chance to chat with Clayton Blank, owner and operator of Stage Line Coffee Roasters in New Market, MD. He was dropping off some bags of freshly roasted Common Market blend, a medium roast made especially for us!
Q: How did you get into roasting, and how long have you been doing it?
A: I got into roasting by pure interest in learning more about coffee. I started out on a swirly pop popcorn marker, graduated to a small air roaster and then my next roaster was was a 25lb drum roaster but, now I roast on a 6lb batch roaster. I have been roasting for 2.5 years or more! I started production roasting for a company called Wicked Goat that used to be in VA.
Q: What do you like most about roasting?
A: What I like most about roasting is the differences in coffees and how they roast. So many factors play a role in how the coffee will taste and getting to bring out the best in each is amazing.
Q: How do you choose the beans you roast?
A: I choose and source the coffees I get based on several factors. One being flavor profile and how I intended to use it. There are certain flavors I look to have in blends or as a single origin offerings to showcase the region and knowing what flavors are prevalent in certain origins makes it a first step in choosing. Second, is producer information. Without knowing the full description of the coffee and producer information makes buying coffee seem too secretive and that's why I always look for as much information on the producer and coffee as possible. To me this shows more support and care to the producers as well allowing me to inform my customers of the coffee they are drinking.
Q: What do you think is the best brewing method for Stage Line coffee and why?
A: Brewing coffee all depends! There are certain coffees I feel do better with different brew methods and some are even blended to be better in certain ones. I always like to use a V60 pour over to really bring out notes in coffees as well as having a super clean cup but, our house blends do extremely well as batch brews and we also have Old National that is our espresso blend.
Q: Where did the name "Stage Line" come from?
A: The name Stage Line actually comes from the building in front of the roastery. It used to be a stage coach hotel back in the day so incorporating that into the brand name was a way to pay homage to the history of the area and it sounds cool!
Be sure to pick up a bag of the Common Market blend coffee in the coffee aisle, or stop by the café and try a Stage Line nitro cold brew on tap.