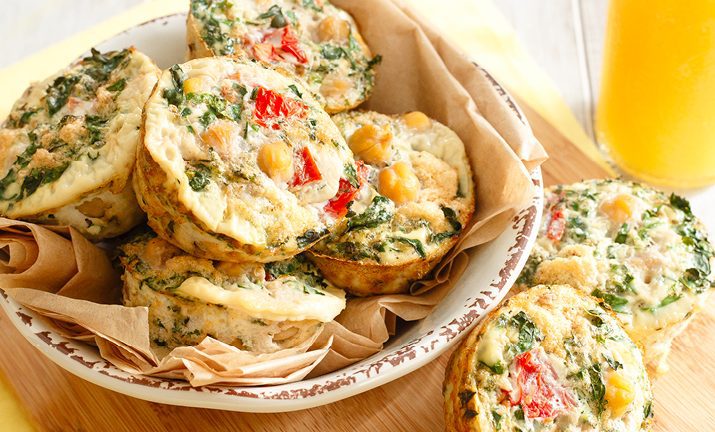 This recipe is perfect if you don't have a lot of time to cook in the mornings! Bake a batch of these high-protein, low-fat mini frittatas, and you can refrigerate them for five days, or freeze them to take with as you run out the door. It's a great way to think ahead and meal prep for the week!
Ingredients:
12 large egg whites (You can use 12 whole eggs if you prefer)
1/2 teaspoon salt
1 tablespoon pepper
1 15-ounce can chickpeas
4 leaves kale, chopped finely
1/2 cup baby tomatoes, chopped
1/4 cup chopped fresh parsley
1 teaspoon dried thyme
Preparation
Heat the oven to 350°F. Line a 12-cup muffin pan with paper liners, or grease with cooking spray, shortening or butter, and set aside. (The egg whites will stick if you don't line or grease the pan well.)
Whisk the egg whites, salt and pepper in a medium bowl, reserve.
Drain the chickpeas in a wire strainer and place in a large bowl. (The liquid from the chickpeas may be saved for another use; see Tips below.) Add the kale and tomatoes to the chickpeas. Add the parsley and thyme and mix well, then divide mixture between the muffin cups, placing the items loosely so the egg white can flow around them. Divide the egg whites between the muffin cups, about 1/4 cup of egg per muffin. Leave about a quarter of an inch of room in the top of each muffin cup so they have room to expand while baking. Tap the pan on the counter to settle the ingredients.
Bake for 25-30 minutes, until the eggs are set and firm. Cool on a rack before refrigerating or freezing in an airtight container or plastic freezer bag.
Tips
Save the chickpea liquid for aquafaba recipes. Also, freeze the dozen egg yolks you won't be using in the recipe and thaw as needed for cakes and puddings.
Nutritional Information
60 calories, .5 g. fat, 0 mg. cholesterol, 125 mg. sodium, 8 g. carbohydrate, 2 g. fiber, 6 g. protein