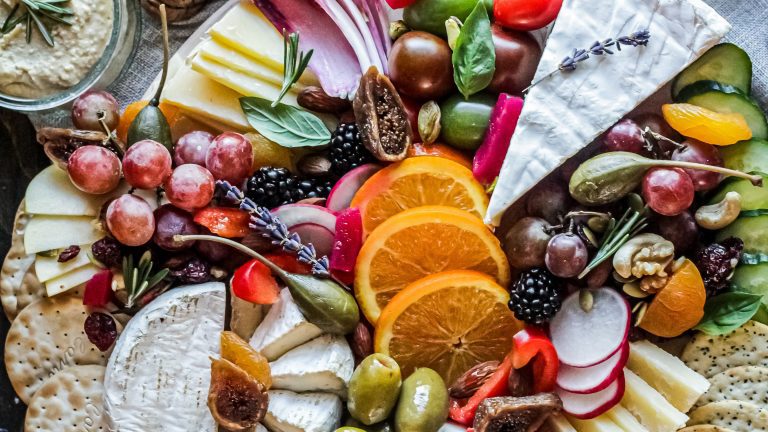 We can't think of a better way to show you care than curating a cheese and charcuterie board based on your special someone's specific tastes. There's no wrong way to craft one!
1.) Start with the board.
Cheese boards are typically assembled on a slate or wooden tray, which may be square, rectangular, or round (or heart-shaped!). But if you don't already own one, don't feel like you need to go out and buy one. You can also use a plate, a cutting board, or even a baking sheet. Any flat surface will work!
2.) Select the cheeses.
Try to include a variety of flavors and textures by selecting cheeses from different families. Add a funky cheese if you're feeling adventurous!
3.) Add some charcuterie.
A.K.A. cured meats. Prosciutto, salami, sopressata, chorizo, or mortadella are all good options.
4.) Add some savory.
Think olives, pickles, roasted peppers, artichokes, tapenades, almonds, cashews, or spicy mustards.
5.) Add some sweet. 
Think seasonal and dried fruits, candied nuts, preserves, honey, chutney, or even chocolate.
6.) Put some bread on it!
Sliced baguette, bread sticks, and a variety of crackers in different shapes, sizes, and flavors.
7.) Finish it off with some garnishes.
This is a great way to give your cheese board a personal touch. Use edible flowers, fresh herbs, or additional fruits to give your board the look and feel you want.