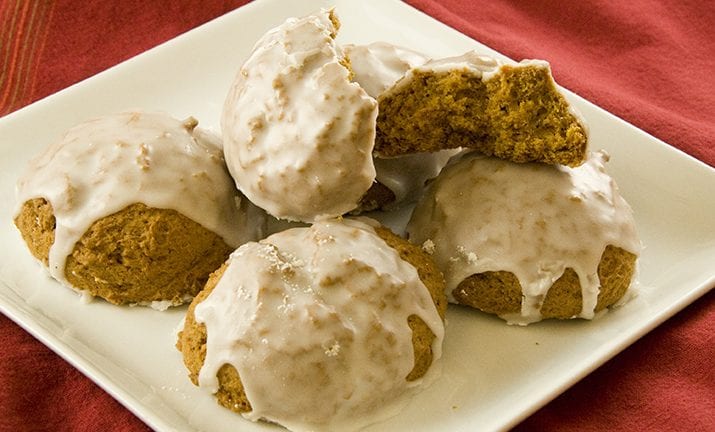 Don't tell anyone—these cookies are vegan and have some healthy whole-grain flour in them, too. Just put them out on the cookie table and watch them disappear.
Ingredients
1 1/2 cups whole wheat pastry flour
1/2 cup unbleached flour
1/2 teaspoon baking soda
1/2 teaspoon baking powder
1 teaspoon cinnamon
1/2 teaspoon salt
2 tablespoons non-dairy milk
1 tablespoon ground flax seeds
1/4 cup vegetable oil
1/2 cup maple syrup
3/4 cup pumpkin puree
1/4 cup powdered sugar
1 tablespoon non-dairy milk, approximately
Preparation
Preheat oven to 350⁰F. Line two sheet pans with parchment paper. In a medium bowl, whisk together flours, baking soda, baking powder, cinnamon, and salt, reserve. In a cup, stir the non-dairy milk with the flax seeds and let stand to thicken for about five minutes. In a medium bowl, stir the vegetable oil, maple syrup and pumpkin puree to mix well. Stir in the flax mixture. Stir the pumpkin mixture into the flour mixture until combined.
Use heaping tablespoons of dough to form cookies, and place them two inches apart on the sheet pans. Bake for 9 minutes, then switch the position of the pans between upper and lower oven racks and bake for 9-10 minutes longer, until the cookies are puffed, deep golden brown, and dry looking. Cool on racks for five minutes before transferring the cookies to the racks to finish cooling.
When the cookies are completely cool, put the powdered sugar in a 2-cup measure with a pouring spout or a medium bowl. Use a fork to stir in the non-dairy milk until a paste is formed. If necessary stir in a few drops to make it just pourable. Drizzle over the cookies and let dry on the racks. When dry, store in air-tight containers for up to a week.
Tips & Notes
Put the cooled cookies on racks on the baking sheets with the parchment still on them, so that any glaze that drips will fall on the parchment, where you can either re-use, or enjoy in the privacy of the kitchen.
Nutritional Information
73 calories, 2 g. fat, 0 mg. cholesterol, 70 mg. sodium, 13 g. carbohydrate, 1 g. fiber, 1 g. protein
Recipe from www.strongertogether.coop.