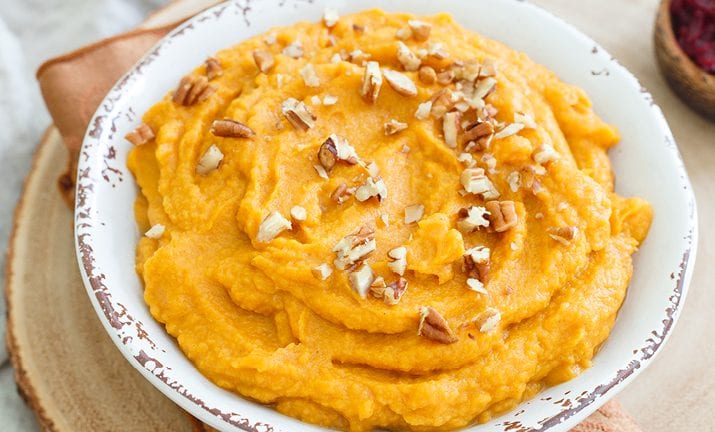 Total Time:
45 minutes; 15 minutes active
These easy sweet potatoes are sure to bring compliments as a holiday side dish. The coconut milk makes them extra flavorful – and dairy-free.
Ingredients
2 pounds sweet potatoes, about 2 medium
1 cup coconut milk
1 teaspoon cinnamon
1/2 teaspoon salt
Preparation
Heat the oven to 400°F. Place the sweet potatoes on a sheet pan and roast for about 30 minutes, until very tender when pierced with a knife. Let cool slightly. Strip the skins from the sweet potatoes and place the flesh in the bowl of a food processor bowl (if you prefer, you can use a large bowl and a hand-masher). Puree or mash the sweet potatoes to desired degree of smoothness, and mix in the coconut milk, cinnamon and salt. Serve warm.
Serving Suggestion
Enjoy these mashed sweet potatoes as a mellow accompaniment for roast beef or braised tempeh, or alongside a tandoori chicken breast.
Nutritional Information
310 calories, 4.5 g. fat, 0 mg. cholesterol, 330 mg. sodium, 65 g. carbohydrate, 10 g. fiber, 3 g. protein
Recipe by www.strongertogether.coop