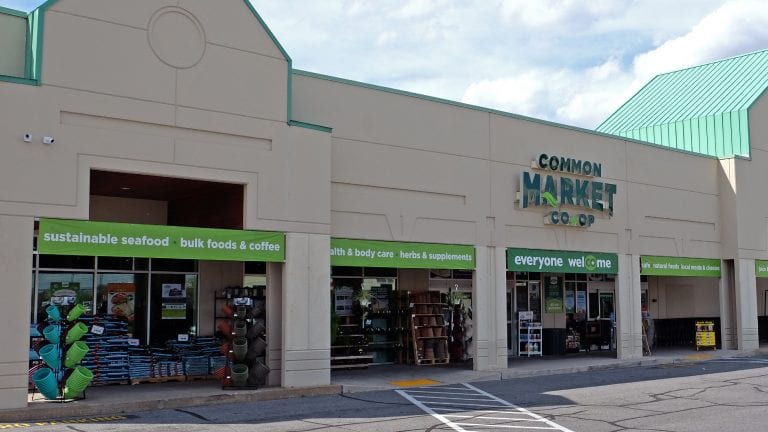 The Common Market is a community-minded, -owned and -operated co-op grocery store. You, our shoppers and owners, are more than just another transaction, you are our community.
We understand you have a lot of choices when it comes to where you spend your food dollars. We strive every day to ensure we are your first choice for truly local, high-quality foods.
What sets us apart from other grocery stores is that when you spend your food dollars at The Common Market, those funds go on to support local vendors, local farmers, and local organizations. In addition to this, your food dollars provide wages and benefits to over 150 Common Market employees and support to our 180 local providers, allowing them to continue providing our community with the fresh, local foods we all love. When you shop The Common Market, you are investing in our mission and together we support the community even more. From providing donations to local non-profits to selling produce and products from local family farmers and businesses, no other grocery store is so deeply rooted right in their community.
If you like the idea of a neighborhood gathering place for fresh, healthy and delicious food, one that's committed and connected to the local community, The Common Market's doors are open to everyone!
Five Fab Facts About Co-ops:
1.Everyone is Welcome.
At The Common Market, as it is in all co-ops, everyone is welcome. You don't need to be a member to shop at our store. Although membership is encouraged, and often provides additional rewards, we are democratically owned and operated, and all customers are welcome.
2. The Magnificent 7
Cooperative businesses proudly operate with seven principles that serve as guidelines to provide a democratic structure for co-ops around the world. The Common Market has adopted the following seven co-op principles:
-Voluntary and open membership
-Democratic member control
-Member economic participation
-Autonomy and independence
-Education, training and information
-Cooperation among cooperatives
-Concern for community
3. We Support our Local Community
One of seven cooperative principles is concern for community, meaning co-ops work toward more sustainable communities through initiatives undertaken by co-op employees and approved by a democratically elected board. By shopping at a co-op, you help your community with hunger relief, nutrition education, support of local producers, and environmental conservation.
4. Co-op Members are Also the Owners
As our cooperative model is unique, we exist to serve our members, but our members are also our owners. With ownership comes an opportunity to participate in co-op elections and to reap economic rewards for ownership, often in the form of patronage dividends.
5. Dot Coop
Have you taken notice of our URL? As a co-op, we like to brag about this little badge of honor – having .coop at the end of our web address – that demonstrates major credibility. The .coop puts The Common Market and other co-ops on par with the web domains like .org, .edu, and .gov.
Adapted from www.welcometothetable.coop