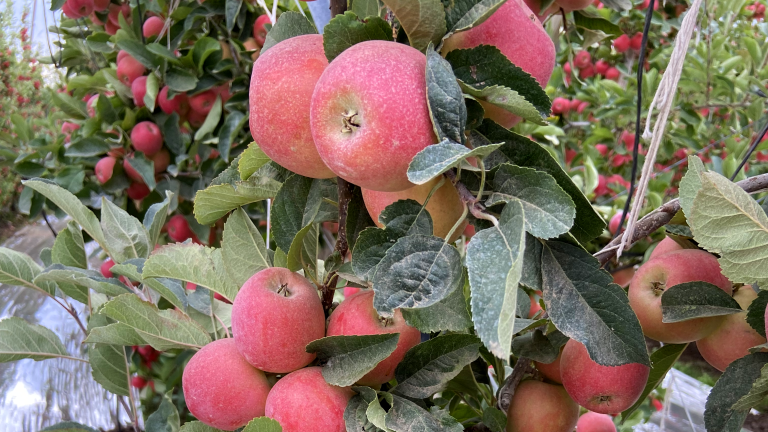 Enjoy this synopsis of our Produce Department trip to Chelan, Washington, written by our Rt. 85 produce manager, Cody Justison.
During my time with the Common Market, I have been able to meet some awesome people;  one of those people is Brian Dey. Brian is a senior merchandiser and natural foods coordinator with Four Seasons produce. Every couple of months Brian will approach the Common Market, specifically the produce department about display contests that are eligible to win prizes.  You may remember the exuberant Sugar Bee apple display at our 7th street location, yeah that was all Brian. The display he built is how we won a trip to Washington State.   
Chelan Fresh is the company who hosted myself, Cody (Produce Manager at the Rt. 85 location) Joe A. (Produce Manager at the 7th street location) and Mike L. (Fresh Category Coordinator) for the trip.  Day one started early as we departed Frederick for BWI at 4:30am EDT and landed in Seattle, Washington at 11:00am WDT.  Once we gathered our belongings we met with Jay Dyer the Senior Category Manager, east coast with Chelan Fresh. 
As we ventured from SeaTac airport in Seattle to Chelan, a 3 hour drive we stopped at various checkpoints. Some of those check points included grocery stores such as Fred Meyer, one of the largest 'hypermarket' stores I have ever visited!  We explored these markets to have an understanding of how operations may differ on the east coast compared to the west coast.  Later that evening, we would meet up with Kevin Stennes who is the Organic Manager with Chelan Fresh. We received insight on how the apples are transported from Washington State to the Common Market!
Day two is where the fun began! We started the day at a helicopter hanger in Chelan, Washington where we learned how helicopters are used to shake cherry trees when it is raining.  This allows for the cherries to stay dry, if water drops were to fall onto a cherry it can cause them to split open.  Each time they have to run the helicopters it costs $350,000 per day, good thing Chelan is sunny 300 days of the year.  After this we visited Gebbers Farms which consists of roughly 14,000 acres of land, yeah it was A LOT! We were able to try multiple apple varieties you would typically see but also a Lucy apple variant which has a red flesh. 

On our third day of the trip, we visited the Chelan Fresh Headquarters in Chelan, Washington and met many of the team members responsible for marketing and sales.  At this time we also met Danny Reisenauer, the Quality Assurance Manager for Chelan Fresh.  Danny was able to explain the difference in apple quality, how they are graded, and were to be used (i.e. bagged apples, slicing apples, boxed to be shipped to supermarkets).  Once we finished there we hit the road to Yakima, Washington. Upon our arrival we met with the Borton's of the Borton Farm, they only had 8,000 acres of land.  As we made our way to the fields we were able to see the apples being harvested.  The handlers of the apples were very gentle making sure not to bruise them as they were being picked or placed in bins. 
Our last day was just as eventful as we toured the newly constructed Borton packing facility. The facility spanned the length of 5 football fields and cost over $125 million to construct.  It was impressive to say the least!  We viewed the storing rooms for the apples which have a controlled temperature and oxygen level to maintain the freshness of apples.  We then saw the apples make their way down the production line, to get washed, dried, waxed, and packaged.  After our tour of the Borton packing facility, we arrived at the Apple Tree golf course where hole 17 is shaped like an apple. The staff at the golf course was nice enough to let us play the hole that day, it went better for some than others.  We then wrapped up our trip visiting the Columbia Valley packing facility which may have been most impressive of all.  The standard within this particular facility, attention to detail, and the overall operation was very efficient. 
I can honestly say this trip had exceeded my expectations.  The people we met were fantastic, the food was amazing (I never had so much calamari in one week), the views were stunning.  Everything I learned on this trip has been brought back and shared with so much of our staff.  Seeing the appreciation and dedication each person in Washington had to provide the Common Market with quality produce was appreciated.  I want to thank Brian from Four Seasons for helping make this happen and the Chelan Fresh team for the amazing hospitality.