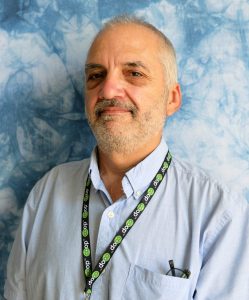 The Common Market Board of Directors is totally thrilled to announce that we have hired a new General Manager, Román Diaz!
Here's a little bit about the hiring process – and then more details on Román!
In March, we contracted with The Carlisle Group, an executive recruitment firm which specializes in the retail grocery world, and within that world, also has a focus on co-ops. The Carlisle Group spent time determining our needs, by means of discussion, Board surveys, personality questionnaires and lots of learning about The Common Market. With that info, they conducted a nation-wide search and provided us with some terrific candidates. Román was our final choice, and we couldn't be more pleased that he is joining The Common Market. Please join us in welcoming Román to our beloved co-op!
Román brings over 20 years of experience in the Natural Grocery business, having opened stores with Whole Foods, MOMs Organic Market and Earth Fare. He is very passionate about Natural and Organic food and supporting local vendors. He can often be found driving around the Virginia and Maryland countrysides in search of fresh produce, pie, and jams – blackberries are his favorite!
Originally from Caracas, Venezuela – Román comes from a very large family of 7 siblings and over 75 first cousins! So don't worry, he's used to working with many different personalities. He has spent the past 27 years living outside of Washington, D.C., having previously lived in Boston and south Florida. He is a huge Nationals fan and is looking forward to bringing some Natitude into Orioles country!
During his free time Román enjoys golfing, biking, spending time with his family, and hosting dinner parties. He is famous for his guacamole.
Professionally, Román believes in creating a collaborative environment where every employee feels empowered to speak up. He's always welcoming of new ideas. Román is also a proponent of having a strong team member development program in place. Having benefited from such programs and mentorship in the past, Román was able to work his way up from produce clerk to General Manager. He tries to pass this on to others as much as possible, as he believes a leader can be only as good as the people he surrounds himself with.
Román looks forward to getting to know everyone at The Common Market!