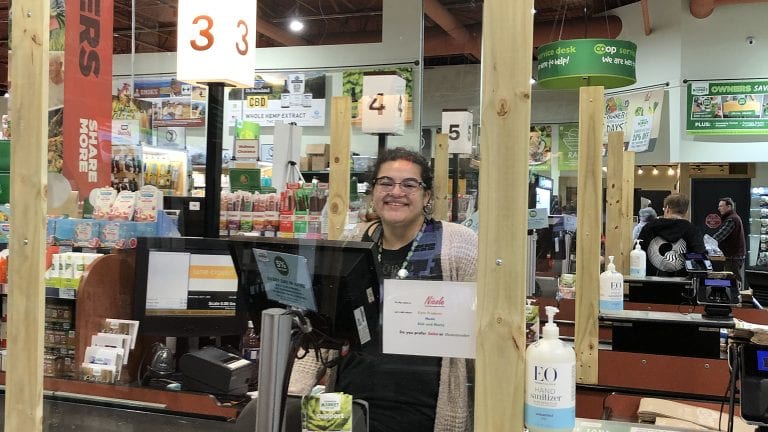 Steps for a Healthy Frederick
At The Common Market, we take the health and safety of our community seriously and strive to do more than just provide natural, affordable, and healthy food. We appreciate your loyalty and patronage during this time of uncertainty. As we all navigate through the current coronavirus (COVID-19) outbreak, we will continue to focus, as we always have, on our community's health and wellness.
Serving our community is our top priority, and we will continue to maintain regular operations as long as it is considered safe. Precautionary steps have begun in our store over the last week to prevent the spread of illness and ease the minds of our community. Here are some of the actions the Common Market has taken:
Increased cleaning and sanitation of the store
Gloves available at the store entrance
Disinfectant wipes provided for cleaning cart and basket handles
Cashiers wipe down all station surfaces between customers when possible
Gloves and hand sanitizer are available at each register
Extra trash cans installed next to inner exit door for glove collection
Bulk ginger beer and kombucha kegs have been removed from the store (kombucha and ginger beer still available by the cup in the cafe)
Bulk department has been transitioned to prepackaged rather than self-serve. Bring-your-own-container program is not available
Hot Bar, Salad Bar, and Olive Bar are closed with pre-packaged grab-n-go options available
Self-serve coffee station has been removed. Coffee will be served by baristas only
Reusable silverware and mugs removed from café area
Café seating removed in compliance with social distancing
Tester products have been removed from the Wellness Department
Community Room events and meetings have been cancelled through the end of April
Handing out Bring-a-Bag tokens have been suspended, but we continue to make donations to these organizations
Employees are encouraged to wash hands more frequently
Any employee who feels under the weather is encouraged to stay home, and we are offering extra PTO
Decreased store hours to Monday – Sunday 10 am – 8 pm to allow more time to stock and sanitize store and increase employee rest time
A high-risk shopper hour will occur daily from 9 – 10 am (reserved for shoppers over 60, pregnant women, and those who are immunocompromised)

Updated customer restrooms to automatic flushing valves as well as touch-less door handles

No returns on any product to ensure the health of our staff and shoppers
No rainchecks during the state of emergency
No holding of products for customers to be fair and equal to all shoppers. We are performing on a first come, first served basis.
Limiting number of customers inside the store to 50 at a time
We will not allow the use of reusable customer bags.  All purchases will be placed in paper or plastic Common Market bags.
Until further notice, the bulk water dispenser is turned off for sanitary reasons.
As an extra layer of safety for you and our front end staff, we have installed plexiglass barriers at our registers.
Small Electronics Drop off is temporarily unavailable, but will return in the near future.
Here to provide the healthy, natural, and sustainable products you love.
During this pandemic, we're working hard to keep the Common Market shelves stocked with the products you love. Though certain items cannot be guaranteed to be in stock, we still have many of the staples you and your loved ones need during this time.
Our 100% organic produce department remains vibrant and plentiful. Stock up on healthy fruits and vegetables to give your body natural vitamins and minerals vital to your health and immune system. Remember to utilize our large selection of bulk products to stock up on pantry staples that can be used for hearty meals or snacks.
Our grocery shelves are still stocked with staples like pasta, soups, canned goods, and snacks to keep you energized. These items keep for a good amount of time and can be great for creating quick meals packed with nutrients.
We will continue to stock frozen essentials like easy meal solutions, frozen meats and seafood, vegetables, and breakfast items that are great for you and your family.

Updated Store Hours.
In order to meet demand and help our employees, we have updated our store hours to Monday through Sunday from 10 am – 8 pm. This will allow employees to rest and recharge, but also allow us to keep the store sanitized and stocked as best as possible. In an attempt to keep our high-risk population safe, we are implementing specially dedicated shopping times for 60 & Wiser, pregnant and immunocompromised shoppers.  These designated hours will take place Monday – Sunday from 9 am – 10 am.  In addition to our 60 & Wiser 5% discount occurring every Wednesday, we will also extend the discount during the specially designated times seven days per week as well. We have also implemented a Health Care Worker and First Responder discount of 5% off all purchases through the month of April. Please let your cashier know to receive the discount.
Our friendly staff are here with a smile on their face to help you in this time of need. We're here to help keep the community healthy and are proud that you continually choose us for your grocery and household needs.
We will continue to take all the necessary steps to provide the community with the things they need and our staff with a safe place to work. As the situation evolves, and based upon availability, we will keep you updated on any changes or new developments. Again, we thank you for your loyalty and for choosing the Common Market.
This post will be edited to include new information. Check back to stay up-to-date.