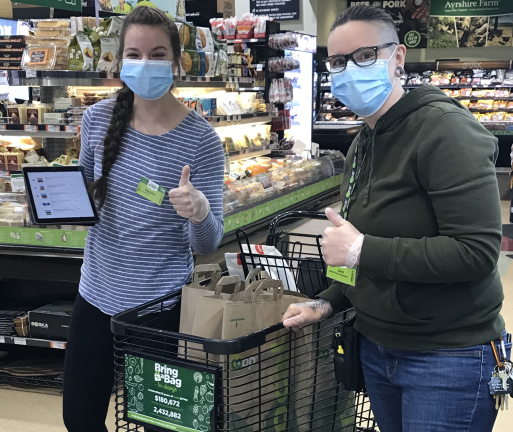 Current Store Hours
8 am – 9 am High Risk Shopping Hour
9 am – 9 pm General Shopping Hours
8 am – 7 pm Cafe Hours
Steps for a Healthy Frederick
At The Common Market, we take the health and safety of our community seriously and strive to do more than just provide natural, affordable, and healthy food. We appreciate your loyalty and patronage during this time of uncertainty. As we all navigate through the current coronavirus (COVID-19) outbreak, we will continue to focus, as we always have, on our community's health and wellness.
Serving our community is our top priority, and we will continue to maintain regular operations as long as it is considered safe. Precautionary steps have begun in our store  to prevent the spread of illness and ease the minds of our community. Here are some of the actions the Common Market has taken:
Increased cleaning and sanitation of the store
Gloves available at the store entrance
Disinfectant wipes provided for cleaning cart and basket handles
Cashiers wipe down all station surfaces between customers when possible
Gloves and hand sanitizer are available at each register
Extra trash cans installed next to inner exit door for glove collection
Bulk ginger beer and kombucha kegs have been removed from the store (kombucha and ginger beer still available by the cup in the cafe)
Hot Bar, Salad Bar, and Olive Bar are closed with pre-packaged grab-n-go options available
Self-serve coffee station has been removed. Coffee will be served by baristas only
Reusable silverware and mugs removed from café area
Café seating removed in compliance with social distancing
Tester products have been removed from the Wellness Department
Community Room events and meetings have been cancelled through the end of June (updated April 27th)
Handing out Bring-a-Bag tokens have been suspended, but we continue to make donations to organizations
Employees are encouraged to wash hands more frequently
Any employee who feels under the weather is encouraged to stay home, and we are offering extra PTO

Updated customer restrooms to automatic flushing valves as well as touch-less door handles

Limiting number of customers inside the store to 40 at a time (updated April 16th)
As an extra layer of safety for you and our front end staff, we have installed plexiglass barriers at our registers and front service desk
To further encourage social distancing, we are marking most aisles to be one-way only.
As of April 10th, we now offer curbside pickup and delivery options!
Limiting number of customers waiting to enter the store to 20 (effective April 16th)
Face coverings are required for all employees and customers (effective April 18th)
As of June 1st, we will reopen Special Orders with some temporary terms and conditions.  Please visit the special orders page to learn more…
As of June 8th, reusable bags will be permitted in the store. We ask customers to keep bags in their cart during the checkout process (do not place on conveyor belt) and pack purchases in their reusable bags themselves.  Our staff will be happy to bag on your behalf in our recycled paper or plastic bags, should you prefer.
As of June 12th, c

ustomers are able to utilize scoop and gravity bins using provided bags OR your own reusable container. We ask customers to ensure any reusable containers brought into the Common Market are sanitized and clean. 

Bulk water and bulk wellness will resume to normal operation as well. At this time, bulk spices will remain packaged until a later announced date (potentially next week).

As of June 15th, 24 product hold and rain checks return!  See front service desk associate with any questions.
As of June 16th, 

we are back to our normal return policy! If you are not satisfied with any product, your money will be refunded when returned within 30 days from the date of purchase accompanied by your receipt. As usual, no returns on special order items we don't usually stock, perishable or fresh items that are past their expiration date, significantly used wellness merchandise, and magazines. 

For any questions, stop by the service desk or call 301-663-3416
Here to provide the healthy, natural, and sustainable products you love.
During this pandemic, we're working hard to keep the Common Market shelves stocked with the products you love. Though certain items cannot be guaranteed to be in stock, we still have many of the staples you and your loved ones need during this time.
Our friendly staff are here with a smile on their face to help you in this time of need. We're here to help keep the community healthy and are proud that you continually choose us for your grocery and household needs.  We will continue to take all the necessary steps to provide the community with the things they need and our staff with a safe place to work. As the situation evolves, and based upon availability, we will keep you updated on any changes or new developments. Again, we thank you for your loyalty and for choosing the Common Market.
This post will be edited to include new information as it becomes available. Check back often to stay up-to-date.