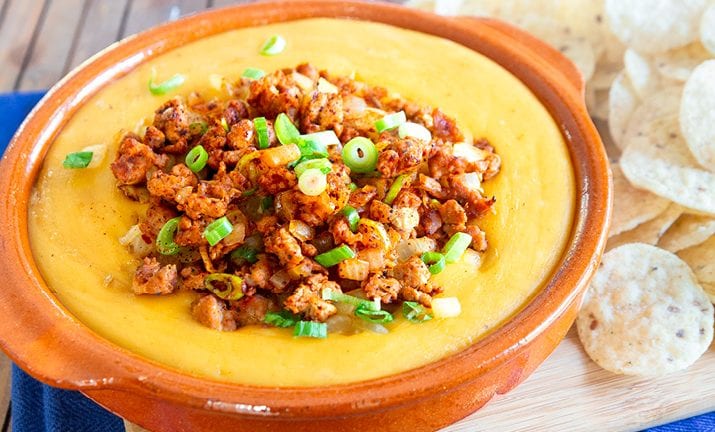 Recipe Information
Total Time:
30 minutes active (45 minutes if using mushrooms)
Melty queso dips are a popular restaurant appetizer. You can make your own at home topped with pork chorizo, vegan "chorizo," or a spicy mushroom sauté. All you need are chips to dip and salsa and you have a great starter or cheesy main course.
Ingredients
1 4-oz. link fresh chorizo or hot Italian sausage (or vegan chorizo and 1 tablespoon olive oil), casing removed
1/2 cup minced onion
1 tablespoon all-purpose flour
1/2 cup chicken or vegetable stock
4 oz. grated yellow cheddar
4 oz. grated Monterey Jack
Mushrooms (if desired; see Tips & Notes)
31/2 oz. shiitake mushrooms, finely chopped
1 tablespoon extra virgin olive oil
1/2 teaspoon chipotle powder
1/2 teaspoon paprika
1/2 teaspoon ground cumin
1 pinch salt
Preparation
Place a large sauté pan over medium heat and add the chorizo and onion. Cook, stirring and scraping with a spatula, until chorizo is cooked and onion is soft and translucent, about 5 minutes. (If using vegan chorizo, cook in a tablespoon of olive oil.)
Using a slotted spoon, lift the chorizo and onions out of the fat in the pan, and place in a small bowl; keep warm. If the chorizo didn't render much fat, add a couple of teaspoons of olive oil to the pan.
Sprinkle the flour over the fat in the pan, stirring to mix well. Cook for a minute, until the mixture is bubbling. Remove pan from heat and add the stock gradually, whisking until smooth after each addition. When all the stock is added and the mixture is smooth, place back over heat and stir until the liquid bubbles. Add cheeses one handful at a time, stirring until melted before adding more. When all the cheese is incorporated and smooth, transfer to a serving bowl and sprinkle with the chorizo mixture. Makes about 11/2 cups of queso.
Serve with tortilla chips and salsa.
Tips & Notes
For smoky mushrooms: trim the stems from the mushrooms and chop finely. Place a large skillet over medium-high heat and drizzle in the olive oil. Wait a few seconds, then add the mushrooms. Sauté, stirring until the mushrooms soften, about 5 minutes. Add the chipotle, paprika, cumin and salt and stir. Cook for a few seconds to toast the spices, then transfer to a medium bowl. Serve sprinkled over the warm queso.
Nutritional Information
270 calories, 10 g. fat, 60 mg. cholesterol, 750 mg. sodium, 4 g. carbohydrate, 0 g. fiber , 16 g. protein
Recipe from www.strongertogether.coop.