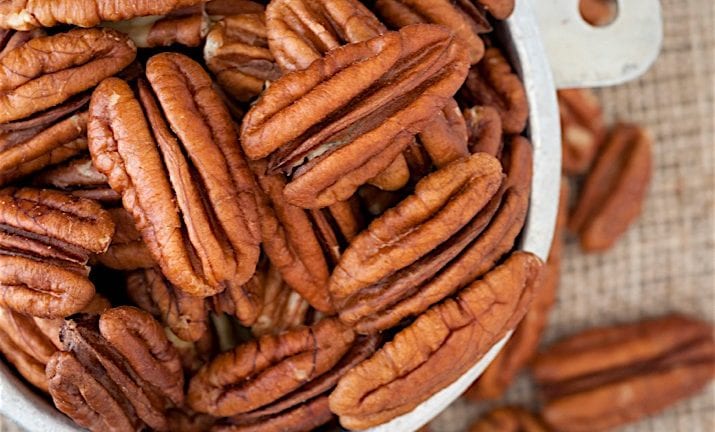 By:
Recipe Information
Total Time:
2 hours (baking); 10 minutes active
This tasty sweet potato pie has less added sugar and fat than traditional versions, without sacrificing flavor. It's easy to make and is a perfect holiday dessert.
Ingredients
Topping
1 heaping cup pecan halves
Olive oil spray
Filling
1 1/2 cups cooked, cooled, peeled and chunked sweet potato* (approximately 1 large sweet potato)
2 large eggs
1/4 cup maple syrup or 1/4cup brown sugar plus 1/4 cup milk or nut milk
1 tablespoon pumpkin pie spice
1/4 teaspoon salt
1 teaspoon vanilla
Preparation
Preheat oven to 350°F.
To prepare nut topping, lightly oil or spray a 9 inch glass pie pan.  Arrange pecan halves attractively to completely cover bottom of pan (kids love to do this).
To prepare filling, mix together remaining ingredients using blender, food processor or mixing bowl and hand mixer until ingredients are fully blended and mixture is smooth and thick. Gently spoon filling into pie pan being careful not to disturb the arrangement of nuts. Cover nuts completely with filling and use a spatula to even out filling surface.
Bake 45 minutes, or until blade of sharp knife comes out of filling clean.  Remove from oven and cool. When completely cool, run knife around edge of pie pan to release sides. Place a large plate on top of the pie and invert. You now have a lovely sweet potato upside-down pie with a pecan garnished top! Serve plain or with whipped cream.
Nutritional Information
Calories: 196, Fat: 12 g, Cholesterol: 46 mg, Sodium: 110 mg, Carbohydrate: 20 g, Dietary Fiber: 3 g, Protein: 4 g
Recipe from www.strongertogether.coop.