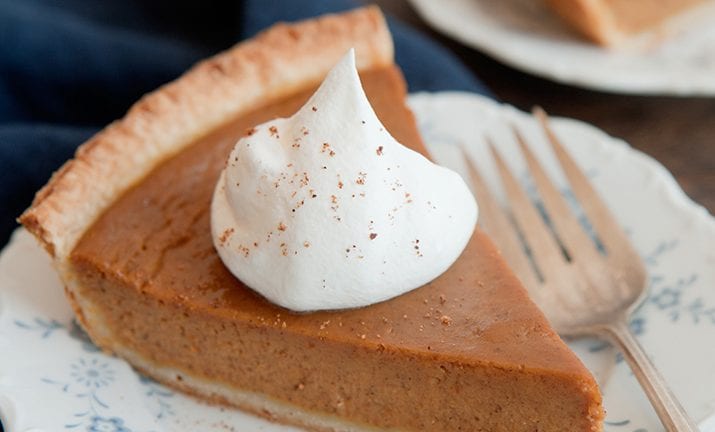 Total Time:
1 hour; 15 minutes active
This classic, easy pumpkin pie is one you'll want to make over and over again.
Ingredients
1 3/4 cups (or 1 15-oz can) pumpkin puree
3 eggs, beaten
1 cup half and half
1/3 cup milk
3 tablespoons maple syrup
1 teaspoon vanilla extract
1/2 cup sugar
1 1/2 teaspoon ground ginger
1 teaspoon ground cinnamon
1/4 teaspoon ground cloves
1/2 teaspoon salt
1 9-inch homemade pie crust or prepared pie crust
Whipped cream (optional)
Preparation
Preheat oven to 400⁰F.
In a large bowl, combine all the ingredients except pie crust and optional whipped cream and beat until smooth.
Pour into pie shell and bake at 400⁰F for 15 minutes, then reduce the heat to 350⁰F and bake for 40-50 minutes or until a knife inserted in the center comes out clean.
Cool on a wire rack for 2-3 hours before slicing. Serve with a dollop of whipped cream, if using.
Nutritional Information
230 calories, 9 g. fat, 90 mg. cholesterol, 260 mg. sodium, 32 g. carbohydrate, 1 g. fiber, 6 g. protein
Recipe from www.strongertogether.coop