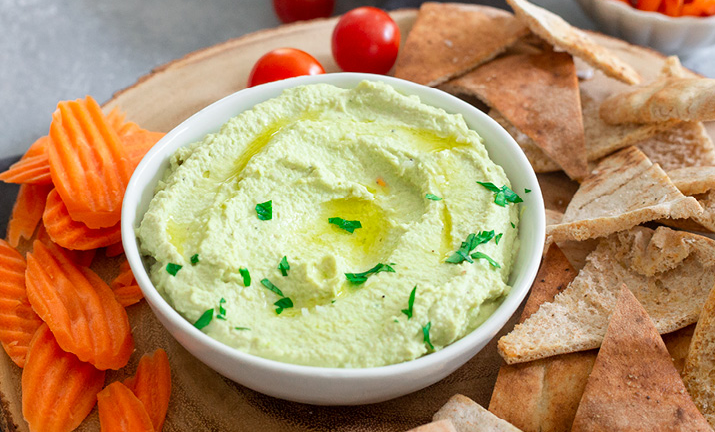 Recipe Information
Change up your hummus with this rich, creamy version featuring edamame and avocado.
Ingredients
1 clove garlic, peeled
2 cups frozen shelled edamame, thawed
2 large avocados, pitted
1/4 cup fresh lemon juice
1/4 cup tahini
3 tablespoons olive oil, divided
1 1/2 teaspoons salt, divided
1/4 cup ice water
3 whole wheat pita pocket breads
1/4 teaspoon paprika, or spice mix of choice
Preparation
Put the lid on the food processor, turn it on, and drop the garlic clove in through the feed chute to blend. Turn the machine off, take off the lid, and scrape the garlic down. Add the edamame and avocado flesh. Process until very smooth. Add the lemon, tahini, 2 tablespoons olive oil and 1 teaspoon salt and process, pausing the food processer to scrape the mixture up from the bottom to make sure it's well combined. Drizzle in the water with the machine running.
For chips, heat the oven to 350°F. Split each pita into two thin rounds, using a sharp knife to separate the rounds. Stack the rounds and cut the circles in six wedges. Transfer to a large bowl, and drizzle with remaining 1 tablespoon of olive oil. Toss to evenly coat the pieces. Sprinkle with 1/2 teaspoon salt and spice, and toss again. Spread the chips evenly on two rimmed sheet pans.
Bake for 4 minutes. Move the pan on the top oven rack to the lower rack, and the one on the top rack to lower; bake for 4 minutes longer. The chips will be browned and crisp. Cool on the pans on racks, and serve warm with avocado hummus.
To make ahead and store, cover the hummus with plastic wrap pressed down to contact the surface of the dip and refrigerate for up to three days. To keep chips fresh for up to three days, store in an airtight container at room temperature.
Serving Suggestion
Make this dip as a hearty contribution to a potluck or buffet. It can also be the center of a casual lunch, packed in a small container accompanied by a green salad, some feta cheese and a piece of fruit.
Nutritional Information
330 calories, 21 g. fat, 0 mg. cholesterol, 680 mg. sodium, 29 g. carbohydrate, 9 g. fiber, 10 g. protein
Recipe from www.welcometothetable.coop