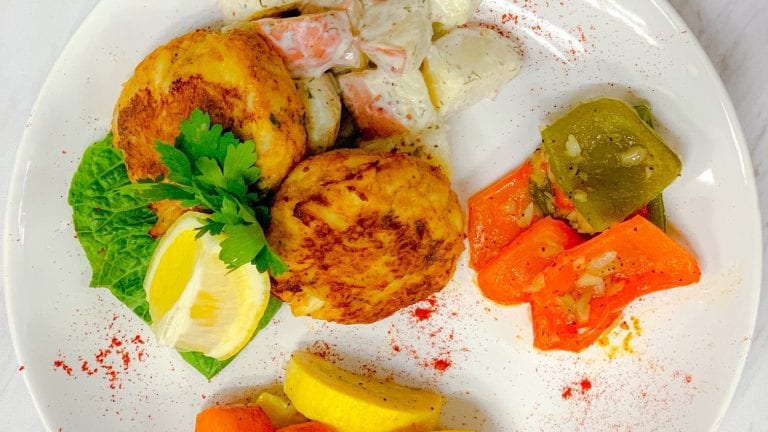 Maryland is well-known for crab, and crab cakes are one of the simplest (and least messy) ways to enjoy it. Pair it with some delicious veggies and a side and you have an easy and delicious meal.
---
Serves: 1                    Prep Time: 10 minutes                    Cooking Time: 20 – 30 minutes
---
Ingredients
1 package Common Market Crab Cakes
1/2 each Organic Red & Green Bell Pepper
1 Organic carrot
1/4 Organic yellow squash
Common Market Red Potato Salad
2 Tbsp. Olive oil
1 tsp. Thyme
1 tsp. Rosemary
---
Directions
Preheat oven to 350
Put parchment paper on baking sheet. Place crab cakes on lined baking sheet and bake for 20 – 30 minutes or until internal temperature is 165 or above.
While crab cakes are baking, cut bell peppers into quarters, and cut carrot and squash into round pieces.
In medium mixing bowl, combine vegetables, olive oil, Thyme, and Rosemary.
Spread coated vegetables onto another lined baking sheet. Bake at 350 for 15 minutes or until tender.
Serve with a side of Common Market Red Potato Salad.