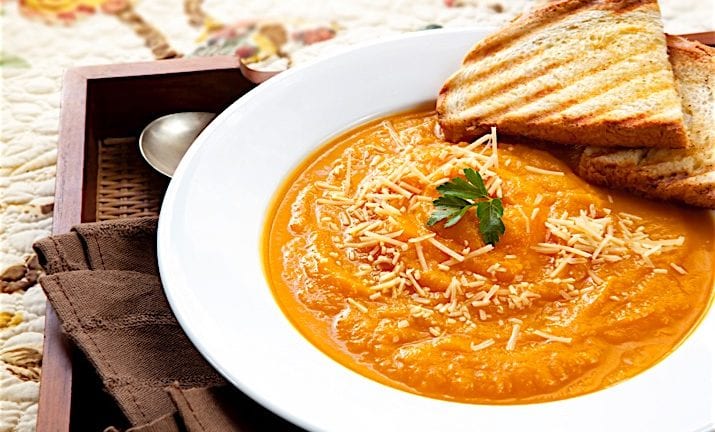 Sun-dried tomatoes warm up this butternut squash soup with a taste of summer. A perfect starter or whole meal when paired with whole grain bread and a green salad.
Ingredients
1 yellow onion, peeled and chopped
5-6 cloves garlic peeled and chopped
4-6 sliced cremini mushrooms
2 T olive oil or butter
4-6 pieces sun dried tomato, soaked in 1 cup water for 20 minutes
1 2-3 lb. butternut squash, peeled and cubed in 1/2″ to 1″ cubes (optional: save seeds for roasting, see Tips & Notes)
1 red or yellow potato, cut into chunks (peeled or unpeeled)
Water or broth to cover the vegetables
Salt and pepper to taste
1/2 cup grated Parmesan or pecorino Romano cheese
Preparation
In a soup pot, sauté onions and garlic in olive oil or melted butter until onions are transparent. Add mushrooms and continue to sauté until mushrooms soften and release their juices.
Add the soaked tomatoes, squash and potato and just enough water or broth to submerge vegetables. Bring soup  to a gentle boil and  simmer gently, uncovered, for 30-40 minutes. Stir occasionally, adding more water or broth as necessary to keep vegetables covered with liquid. Cook until squash falls apart easily.
Puree with immersion blender or potato masher and season to taste with salt and pepper. Soup should be the consistency of a medium-thick split pea soup. (See Tips and Notes for using a blender of food processor.) Sprinkle with grated Parmesan or pecorino Romano cheese and serve.
Serving Suggestions
Serve with toast or warm bread and a side salad for a light, nutritious and comforting meal.
Nutritional Information
Calories: 261, Fat: 7 g, Cholesterol: 7 mg, Sodium: 171 mg, Carbohydrate: 30 g, Dietary Fiber: 5 g, Protein: 7 g
Recipe from www.strongertogether.coop