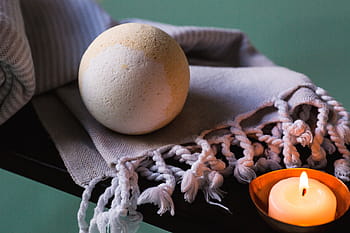 Making time for rest and relaxation is crucial for a happy, healthy, balanced life.
Here are some recipes and tips to help ease you into über relaxation mode…
Colorful, fizzy Bath Bombs are a great way to transform a regular bath into a spa experience.  This video will walk you through the simple process.  Feel free to customize scent, color, and shape.  Having a hard time finding a mold for it? No stress- measuring cups, muffin tins, ice cube trays, and cookie cutters all make great Bath Bomb molds.  Additionally, you could use the mixture without a mold as enhanced bath salts.
Here is a list of Body Scrub recipes that can help you de-stress and rejuvenate tired skin.  Different scents have different properties, citrus and peppermint can be energizing, lavender and sage can be calming, jasmin and rose can help with insomnia, eucalyptus and rosemary can help ease pain.  You can read more about aromatherapy here. Leave a jar of moisturizing scrub at your sink to use as a pick-me-up after washing your hands.
Finally, why not put all that new aromatherapy knowledge you have to work in a customized body lotion? This recipe includes tips on turning the base into a baby lotion, cooling muscle rub, and anti-aging face lotion.
Interested in serious relaxation without the recipes?
Practice yoga, tai chi, or qigong.
Try laying down for a few minutes with a warm compress on your forehead (a few drops of essential oil could be added to the compress).
Practice deep breathing.  Breathe in deeply for 4 counts, hold for 4 counts, and exhale slowly for 8 counts, do this for at least 3 breaths.
Try a guided body scan. This body scan includes some gentle background music.
Speaking of music! What music calms you the most? Or maybe a high-spirited dance party of one is more what you need right now… you decide what suits you best in this moment 🙂