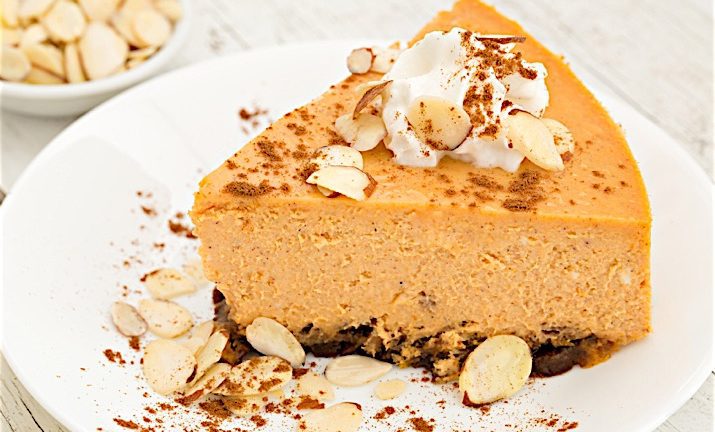 Recipe Information
Total Time:
2 hours 30 minutes; 30 minutes active
The richness of pumpkin makes up for a decidedly lower-fat cheesecake. Nobody will know that you used neufchatel and fat-free yogurt to shave off a few grams of fat in this perfectly creamy and delicious dessert.
Ingredients
Crust
butter for pan
2 cups gingersnap cookie crumbs
2 tablespoons golden brown sugar (packed)
1/4 cup unsalted butter (1/2 stick) melted
Filling
3 8-ounce packages neufchatel cheese, room temperature
1 cup plain greek yogurt, fat free
1 cup sugar
3/4 cup light brown sugar
1 15-ounce canned pumpkin
5 large eggs
2 tablespoons all-purpose flour
1 1/2 teaspoons ground cinnamon
1/2 teaspoon ground allspice
1/4 teaspoon freshly grated nutmeg
1/2 teaspoon salt
2 teaspoons vanilla extract
Topping
1/2 cup whipping cream
1/4 teaspoon vanilla extract
1/2 cup sliced almonds, lightly toasted
cinnamon, to sprinkle
Preparation
Preheat the oven to 350 degrees F.
Make the crust: Butter a 10-inch springform pan, and get a deep roasting pan that the springform fits in. Boil a pot of water.
In a food processor, grind the gingersnaps to fine crumbs, then add the butter and brown sugar and process to mix. Press in the bottom of buttered pan. Bake for 10 minutes, just to lightly toast the crust. Take out and let cool.
Make the filling: Wash the food processor and dry it. Add the neufchatel cheese and process until creamy, scraping down as needed. Then add the yogurt and sugar and process again, scraping down until well mixed and smooth. Add the pumpkin, eggs, flour, cinnamon, allspice, nutmeg, salt and vanilla. Process until smooth and well mixed, scraping down as needed. Pour the batter into the prepared crust and place in the roasting pan. Carefully pour the boiling water in the pan to come up an inch and a half up the sides of the pan. Transfer the pan to the oven and bake for 1 hour and 30-40 minutes. When done cooking, the cake will be puffed around the edges and will not jiggle in the center when lightly shaken.
Remove the roasting pan and place it on a cooling rack with the cake still in it, for about 10 minutes, then remove the cake and discard the water. Cool the cheesecake on the rack until room temperature, then chill for at least two hours before cutting.
For topping, use a stand mixer fitted with the whisk attachment, or an electric beater to blend the cream and vanilla, then beat to soft peaks.  On each slice, dollop a couple tablespoons of whipped cream, sprinkle a few almond slices, and sprinkle cinnamon.
Nutritional Information
503 calories, 29 g. fat, 152 mg. cholesterol, 511 mg. sodium, 49 g. carbohydrate, 2 g. fiber, 12 g. protein