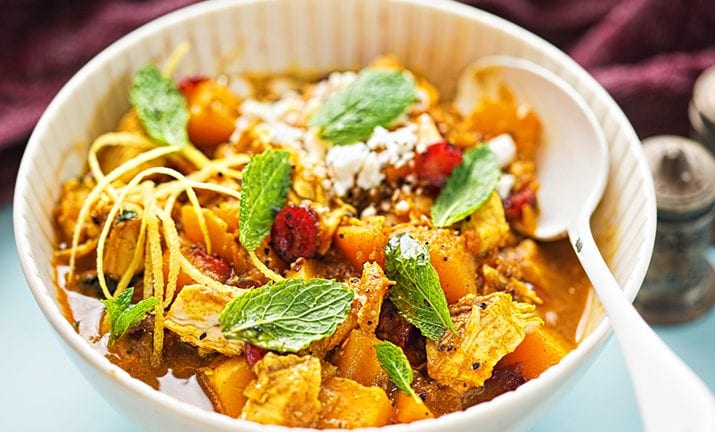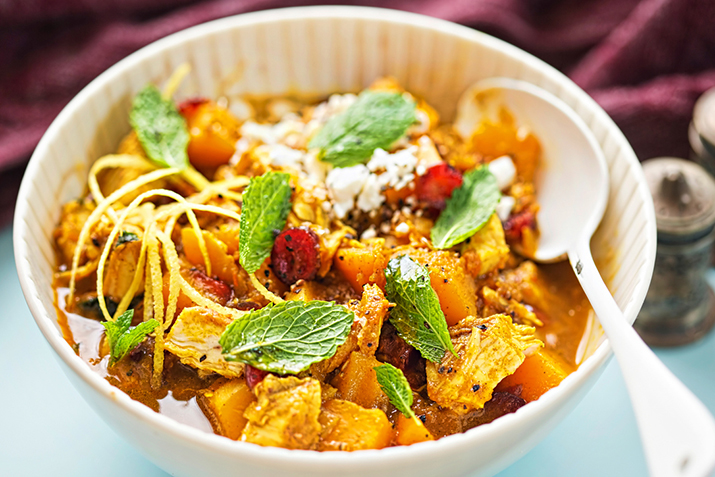 This quick and easy aromatic stew is rich in flavor and perfect for crisp fall and winter days.
Total Time:
30-40 minutes
Ingredients
1 pound boneless chicken breast, diced
2 cups yellow onion, diced (1 large)
1 tablespoon fresh garlic, minced
2 tablespoons olive oil
2 tablespoons curry powder
2 teaspoons cumin, ground
1/2 teaspoon cinnamon
1 1/2-2 cups chicken stock
1 (12-ounce) can coconut milk
2 medium red potatoes, washed and diced
1 large butternut or acorn squash, peeled, seeded and diced
1 (15-ounce) can diced tomatoes (do not drain)
Salt and pepper to taste
Fresh cilantro, chopped (for garnish)
Preparation
In a large (4 1/2-quart) pot, sauté the onion and garlic in olive oil. Add chicken and cook until onion is translucent.
Add curry powder, cumin, and cinnamon. Cook for 1 minute.
Add stock, coconut milk, potatoes, squash, and tomatoes to the pot. Bring to a boil, stirring slowly.
Cover and simmer until potatoes and squash are just fork tender.
Season with salt and pepper. Garnish with cilantro and serve.
Serving Suggestion
Serve with a rice or a hearty bread and green salad.
Nutritional Information
288 calories, 5g. fat, 61 mg. cholesterol, 484 mg. sodium, 20 g. carbohydrate, 7 g. fiber, 21 g. protein
Recipe from www.strongertogether.coop