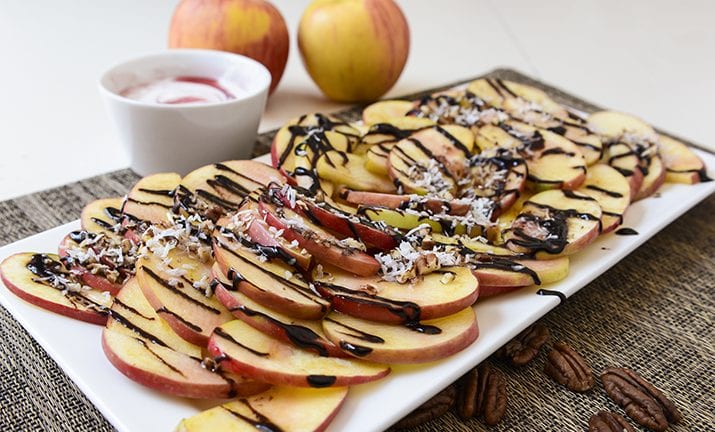 Whip up these fun apple nachos for dessert or a sweet afternoon snack.
Ingredients
1 cup frozen or fresh raspberries
1 tablespoon maple syrup
1/2 cup chocolate chips
2 large Honeycrisp apples, halved, cored and sliced thin
1/4 cup pecans, chopped
2 tablespoons shredded coconut
2 tablespoons plain or vanilla yogurt
Preparation
In a small pot, simmer the raspberries and maple syrup for 5 to 10 minutes, stirring frequently. Remove the raspberry sauce from the heat and pour into a small container through a fine mesh strainer to remove the seeds. (Tip: Use the back of a heavy spoon to push the raspberry sauce through the strainer.) Set aside the finished sauce. Melt the chocolate chips either in a double boiler or by microwaving for about 3 minutes on low, in a microwave-safe bowl. To build the nachos, spread out or overlap the apple slices on a platter or large plate. Lightly drizzle the apple slices with the melted chocolate and raspberry sauce, sprinkle pecans and coconut over the top, and serve with yogurt as a dipping sauce.
Serving Suggestion
Get creative with these kid-friendly dessert nachos! Toast the nuts and coconut, replace the nuts with granola or crushed graham crackers, drizzle the apples with honey or caramel sauce, top with ice cream, sprinkle with cinnamon. If you have extra raspberry sauce, swirl it into the yogurt dip.
Nutritional Information
146 calories, 5 g. fat, 0 mg. cholesterol, 5 mg. sodium, 19 g. carbohydrate, 3 g. fiber, 2 g. protein
Recipe from: https://www.welcometothetable.coop