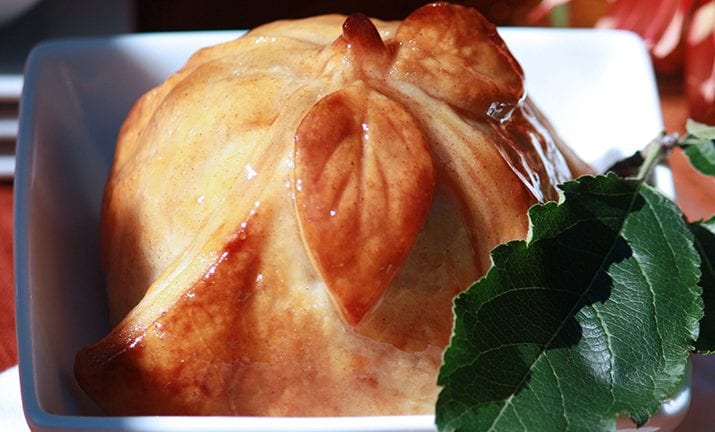 Total Time:
1 hour, 45 minutes; 30 minutes active
These cranberry-and-hazelnut-stuffed dumplings are like having your own personal apple pie. You can purchase the pastry or make your own.
Ingredients
Apple Dumplings
2 tablespoons chopped dried cranberries
2 tablespoons chopped hazelnuts
1 tablespoon maple syrup or honey
6 crisp, tart apples like Granny Smith or Pink Lady, peeled and cored
3 tablespoons butter
Pastry Dough for Apple Dumplings (see recipe below)
Apple Cider-Cinnamon Sauce
1 cup granulated unrefined sugar
1 cup apple cider
1 teaspoon lemon juice
1/4 teaspoon cinnamon
4 tablespoons butter
Pastry Dough for Apple Dumplings
2 cups unbleached white flour
2 teaspoons baking powder
1/2 teaspoon salt
2/3 cup unsalted butter
Preparation
Preheat oven to 375° F.
For Pastry Dough
Combine the flour, baking powder and salt. Using a pastry cutter or your food processor, cut in the butter until the texture resembles coarse cornmeal. Stir in the milk until a soft dough is achieved.
Form the dough into a square, about 1-inch thick and refrigerate for 30 minutes. Roll out as directed.
For the Apple Dumplings and Sauce
Combine the cranberries, hazelnuts and maple syrup and stuff the center of each apple with the mixture. Top each with a pat of butter.
Roll out the pastry to 1/8-inch thick and cut into 6 squares, about 7 inches each. Place one apple in the center of each square and bring the corners up to meet in the middle. Crimp all the edges to seal well. Place the dumplings in a 9 x 13-inch baking dish and set aside while you make the sauce.
Place sugar, apple cider, lemon juice, cinnamon and remaining 4 tablespoons butter in a small saucepan and boil for 1 minute.
Pour cider sauce over dumplings. Bake for about 1 hour, spooning sauce over dumplings once or twice during baking. Serve dumplings in dessert dishes with sauce spooned over.
Serving Suggestions
Delicious served with ice cream or your favorite local cheese.
Nutritional Information
696 calories, 36 g. fat, 89 mg. cholesterol, 610 mg. sodium, 92 g. carbohydrate, 5 g. fiber, 6 g. protein
Recipe from www.strongertogether.coop