Now Open!
On Wednesday, September 16, 2020, the Common Market Co-op opened its second location, giving life to the much-anticipated slogan Two Stores, One Co-op!  Celebratory speeches were given by Board Vice President, Annie Marshall, General Manager, Roman Diaz, Jodie Bollinger from the County Executive's Office and Mayor Michael O'Connor.  After a Ribbon Cutting that also included Store Manager, Max Smith and CFO, Sarah Lebherz shopping bags with samples and coupons were given to the first 300 customers entering the store.
Expanding into 23,000 sq. ft. in the College Park Plaza at 927 West 7th Street, the Common Market now boasts 33,000 sq. ft. of total shopping space in Frederick for customers seeking natural, local, and sustainable groceries, home products, gifts, and a restaurant cafe – the Common Table.  Common Market's existing store on Route 85 will remain open and fully operational.
For Common Market, bigger does not mean deviation from the core values on which the Co-op was founded 46 years ago – people and planet first, then profit.  The Common Market is a member-owned cooperative serving the Frederick area with high-quality natural foods, health products, and household supplies. The Common Market seeks to responsibly serve our community by offering a path to a sustainable, healthful future through its structure, policies, practices, and shared values.  At Common Market, everyone is welcome.  Both owners and non-owners are invited to take advantage of our local grocery items, expanded café menus, and educational opportunities.
At the Common Market, local constitutes products that are grown or produced within 150 miles of the Co-op stores.  We partner with sustainable local farmers and businesses to provide our community with the freshest, most nutritious, and delicious whole foods in our area.  Local tags on signage and shelving throughout the store allow shoppers to support area businesses, making our local economy stronger, contributing to green initiatives, and relying less on supply chains.
In addition to creating over 70 new jobs within the Common Market organization, the expansion team included local businesses: Waynesboro Construction, Bates Architects, Eco Developers LLC, Miles & Stockbridge, Warner Commercial, Xecunet, Graphcom, M.S. Johnston, and D Impression Signs. Financing from Woodsboro Bank and sales of C-shares to nearly 300 owner-investors solidified the Common Market's belief that a business should be a positive contributor to the community.
Frequently Asked Questions
Can I shop at Common Market Co-Op if I'm not an owner?
Yes! Everyone can shop. Anyone can own.
Ownership is about more than investing in wise choices for your health; it's about investing as a partner in the business. The Common Market measures its success through a three-tiered bottom line–people, planet, profit–that correlates to social, environmental, and economic development. We believe a business should be a positive contributor to the local community. We make a conscious effort to give back to our growing community in a variety of ways to show our gratitude for the community's support of the co-op. We are here because we want the health of our families, our planet, and our store to grow.
Do you want to be a part of this movement? Take a look at the benefits, rights, and responsibilities of a Common Market owner, fill out the online form, make a payment, and become an owner today!
Did the Common Market purchase the building?
Yes! With savings and financing from Woodsboro Bank we were able to purchase the 7th Street location in February of this year. The staff and Board went through a detailed due diligence period to ensure our purchase was a sound decision. We are proud to have this investment on the books as it gives us greater collateral to leverage for current and future financing needs.
Who will work at the 7th Street store?
Common Market will hire over 70 new employees to staff both Rt. 85 and 7th Street locations.  We have made it a priority to hire and promote individuals within our organization and will be holding a Job Fair on Thursday, August 20th for same-day interviews & job offers.  If you are interested in working with Common Market, read more about our benefits and work-place culture.
Who designed and worked on the new 7th Street store?
Common Market made it a priority to work with local vendors and contractors.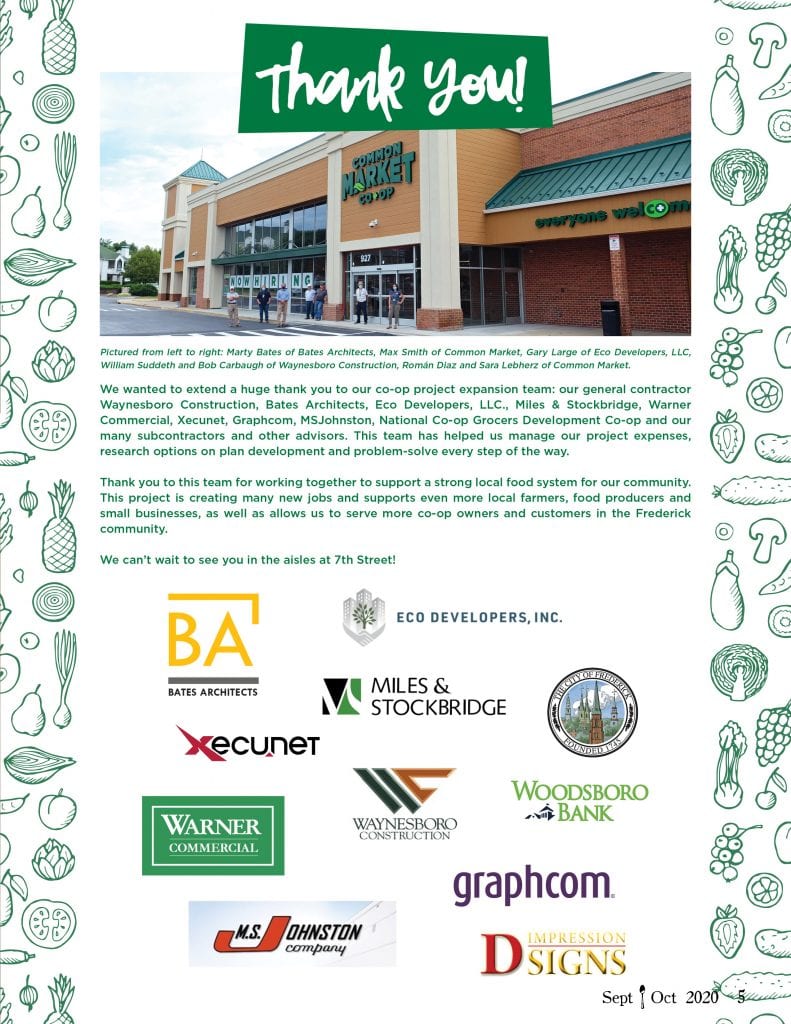 Will the 7th Street location offer the same goods and services that the Rt. 85 location currently offers?
Common Market prides itself on continuing many of the great services and offering many of the products you have come to love at the Rt. 85 store.  But with expansion comes additional services and product selections: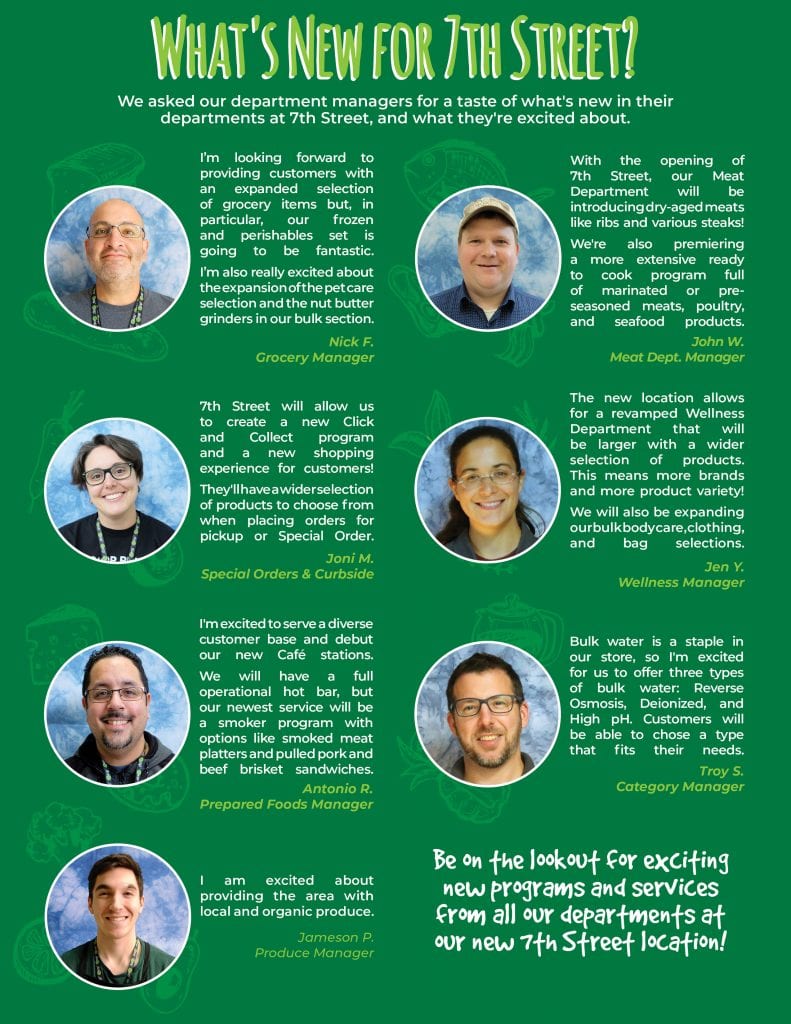 What will expansion mean for local producers and farmers?
We look forward to expanding current partnerships and building new relationships with local farmers and producers.
What does this mean for pricing?
Access and affordability is necessary, which is why we offer more affordable options and our affordable store brand, Field Day, in addition to Co-op Deals and Market Deals.  Looking to stretch you grocery budget?  Co-Op Basics offers over 100 high-quality products at everyday low prices for all!  We also currently accept SNAP and EBT.