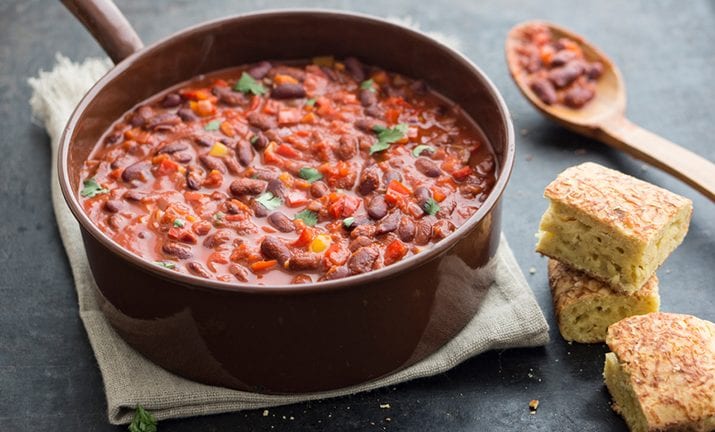 Recipe Information
Total Time:
30 minutes; 15 minutes active
Veggie chili is a great dish to share with friends and family, it's hearty and satisfying for everyone, and vegetarians will be grateful for the option. Adding beer elevates a simple chili to a rave-worthy one, great with a hunk of cornbread and, of course, a beer.
Ingredients
2 teaspoons extra virgin olive oil
1 medium onion, chopped
1 tablespoon chili powder
1/2 teaspoon chipotle powder
1 medium yellow bell pepper, chopped
1 medium green pepper, chopped
1 large carrot, chopped
1 cup wheat beer, red ale or lager
1 14-1/2 ounce can fire-roasted tomatoes, puree
1 15-ounce can kidney beans, drained
1 teaspoon dried oregano
1/2 teaspoon salt
Preparation
In a large pot, heat the olive oil. Sauté the onion for five minutes over medium heat, until soft. Add the chili powder and chipotle and stir until fragrant, then add the peppers, carrot and beer. Raise heat to high and bring to a boil, then cover and reduce to medium-low for 5 minutes. Uncover and add the remaining ingredients, stirring to combine. Simmer for another 5-10 minutes to combine the flavors and thicken the chili.
Serving Suggestion
Serve with a green salad, a hunk of cornbread and beer.
Nutritional Information
185 calories, 3 g. fat, 0 mg. cholesterol, 855 mg. sodium, 32 g. carbohydrate, 9 g. fiber, 7 g. protein
Recipe from www.welcometothetable.coop