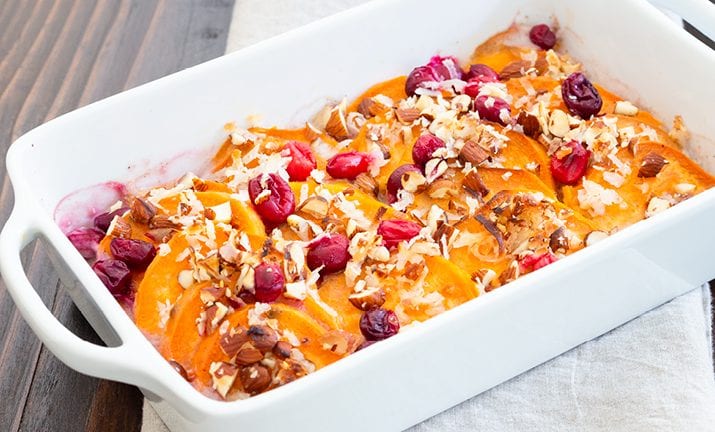 Total Time: 
1 hour 20 minutes; 20 minutes active
Brighten up your meal with this sweet potato side, accented with tart cranberries.
Ingredients
3 large sweet potatoes (3 pounds)
1 1/2 cups fresh or frozen cranberries
1 15 ounce can coconut milk, full fat
1 tablespoon maple syrup (optional)
1 teaspoon cinnamon
1/4 teaspoon allspice
1/4 teaspoon nutmeg
1/2 teaspoon salt
1/2 cup whole almonds, coarsely chopped
2 tablespoons shredded coconut
1 teaspoon coconut oil
Preparation
Heat the oven to 400°F. Place the whole sweet potatoes on a sheet pan and bake until tender, about 30 minutes, then let cool. Strip off the skins and cut potatoes crosswise, into thick slices, placing them in a 9×13 pan, sprinkle the cranberries over the sweet potatoes. In a medium bowl, stir the coconut milk, maple syrup (if using), cinnamon, allspice, nutmeg and salt, then pour over the sweet potatoes.
In a medium bowl, stir the almonds, coconut and coconut oil, then sprinkle over the sweet potatoes. Bake for 25 minutes at 400°F, until bubbling and golden brown. Serve warm.
Serving Suggestion
This not-quite traditional side dish is a natural accompaniment for roast turkey, pork or chicken, or savory meat alternatives like braised tempeh. It also holds up well on a buffet table and is easy to bring along to a holiday potluck.
Nutritional Information
250 calories, 14 g. fat, 0 mg. cholesterol, 220 mg. sodium, 27 g. carbohydrate, 6 g. fiber, 4 g. protein
Recipe from www.strongertogether.coop