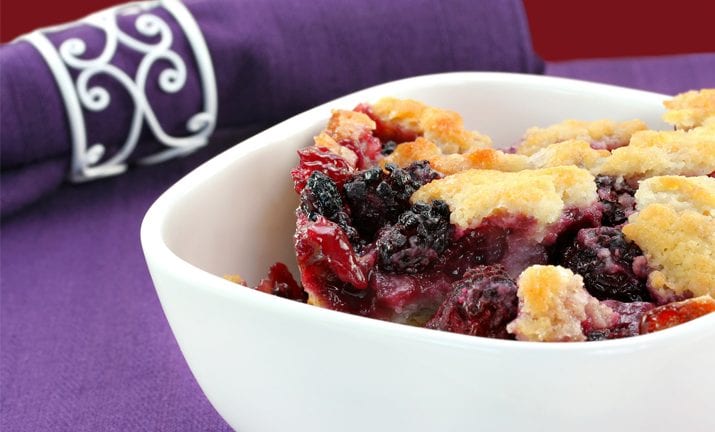 Recipe Information
Total Time:
1 hour; 25 minutes active
The classic cobbler is a perfect vehicle for your beautiful berries. If you don't have time to fuss with a pie crust, this is a good alternative, since the topping is simply stirred together and dolloped on. Just bake until bubbly!
Ingredients
5 cups berries, washed and dried
1/2 cup sugar, divided
1/2 cup whole wheat pastry flour
1/2 cup unbleached flour
1/4 cup sugar
1/2 teaspoon baking powder
1/4 teaspoon baking soda
1/4 teaspoon salt
1 large egg
3/4 cup plain Greek yogurt, fat free
1/4 cup butter, melted

 
Preparation
Preheat the oven to 375 degrees F. Butter a 9-inch square baking pan. Spread the berries in the pan, and sprinkle on the first 1/4 cup of sugar.
In a medium bowl, stir the whole wheat pastry flour and unbleached flour, remaining 1/4 cup sugar, baking powder, baking soda, and salt. In a medium bowl, whisk the egg with the yogurt, then whisk in the melted butter.
Stir the yogurt mixture into the flour mixture, just until combined. Spoon by 2 tablespoon-sized dollops over the fruit, covering the fruit evenly.
Bake for 35-40 minutes, until bubbly and golden. Let cool for five minutes before serving.
Nutritional Information
215 calories, 9 g. fat, 51 mg. cholesterol, 243 mg. sodium, 31 g. carbohydrate, 4 g. fiber, 5 g. protein
Recipe from www.welcometothetable.coop