The Common Market Board of Directors Election, 2019
August 16, 2019 @ 12:00 am

-

September 12, 2019 @ 11:59 pm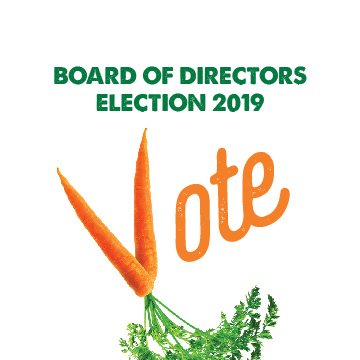 You already know that you straight-up own the Frederick County Consumers Cooperative, doing business as The Common Market. Well, this is the time of year when you get to exercise one of the rights of Ownership: voting! We are trying to save a tree or two, and will be using electronic voting this time around. Please look for an email from Survey & Ballot Systems on August 16th and read all the candidates' statements, take some time to hammer out your preferences, and click to vote.

Click here to preview all 9 candidates running for this year's Board of Directors Election.
We would love to hear your thoughts on electronic voting in general and this ballot in particular. And if you need assistance or accommodation, don't hesitate to call or stop by the Co-op Customer Service Desk at the store. We want everyone to be able to vote, and will go the extra mile to make it work for all. Please look for an email after the election requesting your feedback on your experience.
Thanks for participating in the life of your co-op!
Yours in cooperation,
The Common Market Board of Directors
Megan Schneebaum, Annie Marshall, Stephanie Walker, Evan Rosenberg, Sibylle Mangum, David Cloutier, 
Lisa Williams, John Beutler
Related Events