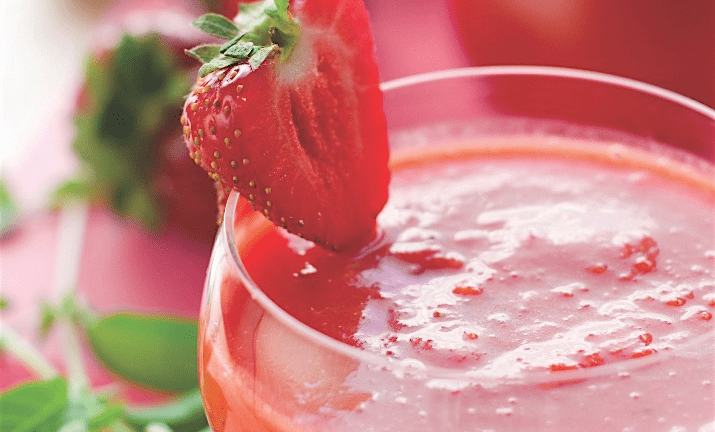 This summer soup is as refreshing and flavorful as it is beautiful!
Ingredients
1 pound strawberries, washed, hulled, and coarsely chopped
1 pound tomatoes, coarsely chopped
1 cup chopped green bell pepper
1 cup chopped cucumber (peeled and seeded)
1/2 cup chopped onion
1 clove fresh garlic
1 fresh jalapeño, seeds and stem removed
Zest of 1 lime
4 tablespoons fresh lime juice
1 1/2 tablespoons balsamic vinegar
1/2 teaspoon salt
Preparation
Blend all of the ingredients together in a blender, in small batches if necessary. Stir well and taste for salt.
This soup is at its refreshing best when served just under room temperature. Refrigerate the fruit and vegetables shortly before blending if you plan to serve it immediately.
Serving Suggestion
Perfect for a light lunch with salad and crackers, this gazpacho looks lovely served in a wide-mouthed tumbler or martini glass. Garnish with freshly-snipped chives or a pinch of cracked black pepper.
Nutritional Information
62 calories, 1 g. fat, 0 mg. cholesterol, 204 mg. sodium, 15 g. carbohydrate, 4 g. fiber, 2 g. protein
Recipe from: https://www.welcometothetable.coop/