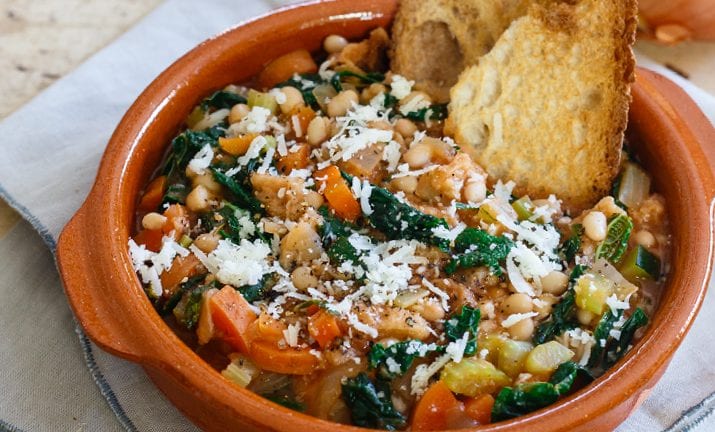 Total Time:
45 minutes, 25 minutes active
The name of this iconic Tuscan stew comes from its history: ribollita means "re-boiled," and some say that the original version was made from the leftovers of yesterday's minestrone, with bread added. Use a rustic, hearty bread that has some texture, so it won't just melt away completely.
Ingredients
1 tablespoon olive oil
1 medium onion, chopped
3 large garlic cloves, chopped
1 small zucchini, chopped
2 ribs celery, chopped
2 large carrots
1 bunch kale, stems chopped, leaves chopped
3 cups vegetable stock
2 teaspoons dried rosemary
1 cup tomato sauce
1 teaspoon salt
1 can cannellini beans, drained
7 slices whole wheat bread
Parmesan cheese
Preparation
Make stock as directed in Veggie Trim Stock recipe, or use another vegetable stock.
In a large pot, heat the olive oil over medium high heat. Add the onion and garlic and stir for five minutes or so, until the onion is clear. Add the zucchini, celery, carrot, kale stems, and stir for a minute, then add the stock and rosemary and bring to a boil. Reduce to a simmer and cook until the vegetables are tender, about 10 minutes. Stir in the tomato puree, kale leaves, cannellini beans and two slices of crumbled bread and simmer until the kale is softened.
Serve soup over a slice of toasted bread and top with freshly shredded Parmesan.
Serving Suggestion
Add just about any seasonal vegetable to the dish: cubed potato, parsnip, rutabaga or a handful of spinach.
Nutritional Information
535 calories, 7 g. fat, 2 mg. cholesterol, 933 mg. sodium, 97 g. carbohydrate, 28 g. fiber, 28 g. protein
Recipe from www.strongertogether.coop