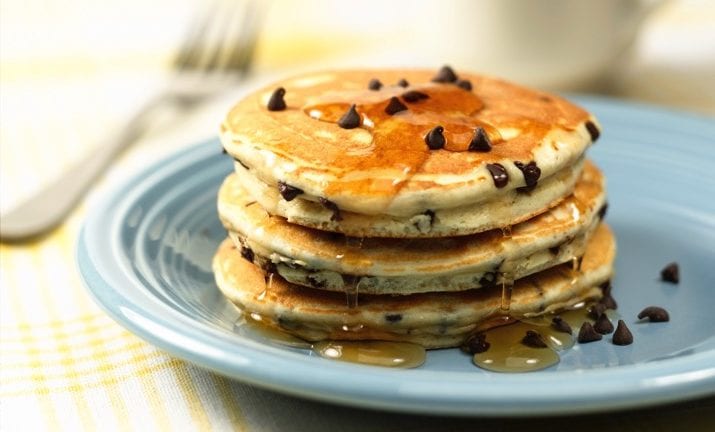 Chocolate Cinnamon Pancakes
Sweeten up your morning just a little bit more with these tempting chocolate chip pancakes.
Ingredients
1 cup all-purpose flour
1 cup whole wheat flour
1 tablespoon baking powder
1/2 teaspoon salt
2 teaspoons cinnamon
2 tablespoons sugar or honey
1 1/2 cups milk
2 tablespoons melted butter
2 large eggs, beaten
1/2 cup chocolate chips
Preparation
In a bowl, whisk together all of the ingredients except for the chocolate chips.
Heat a large skillet or griddle over medium heat and brush with butter or oil. When the griddle is hot, cook the pancakes in batches; use a small ladle to spoon the batter onto the griddle, and then sprinkle each pancake with several chocolate chips. When pancakes just begin to set and small bubbles form around the outside edges, gently flip the pancakes and cook another 1 to 2 minutes on the other side. Transfer to a plate and keep warm in the oven while cooking the remainder of the pancakes. Serve warm with maple syrup.
Nutritional Information
302 calories, 7 g. fat, 80 mg. cholesterol, 413 mg. sodium, 44 g. carbohydrate, 3 g. fiber, 10 g. protein
Recipe from: https://www.welcometothetable.coop