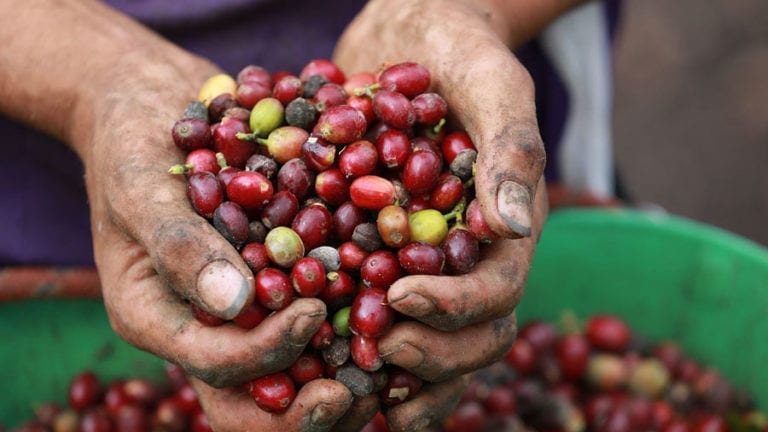 If you are looking for a flavorful cup of coffee—smooth notes of chocolate and spice, sweet nuttiness, and pleasant hints of citrus and honey—meet Choco Sombra. If you want a high-grade cup of coffee produced in a way that protects people, the ecosystem, and a threatened culture, again, Choco Sombra is the one for you.
Choco Sombra is a shade grown, hand-picked single estate Peruvian coffee with extraordinary taste and character. It is imported, roasted, packaged and distributed in a small, unassuming warehouse space in Frederick by a couple of hardworking, dauntless entrepreneurs. Mike Peters and Christy Bueso are building a coffee business grounded in ethics, sustainability, and outstanding quality.

In terms of flavor, Choco Sombra coffee exceeds the specialty grade threshold in both sensorial and physical analysis. Mike and Christy make every effort to preserve that character. The coffee bean has to have complexity to begin with, and then there is the altitude at which the coffee is grown, how it is fermented, dried, and stored. Christy explains, "We go to great lengths to preserve all those little flavors. During transport we use specialized liners inside of the jute bag. When it arrives here, we store it in a climate controlled, state of the art facility and process it in a way that keeps the flavors alive. It all starts with the seed and a tree. A lot can go wrong between there and here."
If you hear Mike and Christy tell the full story, you will find yourself rooting for Choco Sombra like a favorite home team. They do not like to use labels [like fair-trade] because labels tend to get diluted over time. "We would rather describe what we do," Christy tells us. What they do is huge. They are building and marketing an economically viable business model that is environmentally and socially beneficial.

It all started about six years ago when Mike first traveled to Peru. Mike said, "I had no intention of getting into the coffee business. I went there, and I saw something that needed to be preserved." What he saw were coffee plantations in the ecologically delicate cloud forest and a simplified way of life that gave definition to the term civilized.
Mike recognized an opportunity to break the brokerage system that exploits farmers. By working with farmers directly, he is helping them achieve more financial control, access to global best practices, and to protect the ecosystem that provides their livelihood.
From the typical business standpoint, native shade grown coffee is not as lucrative as non-native shade grown coffee. But non-native trees do not provide habitat for the indigenous wildlife, and therefore are not completing the ecological circle. Likewise, open fields are more financially advantageous for intrusive mechanical pickers. The only thing that makes environmentally sound choices economically feasible is when the consumer begins to understand what these choices mean and supports them with their purchasing power.
"It's a mentality thing," says Christy. "For a long period in history it's been about, 'fast, cheap, and good enough.' That ultimately cascades down to a lot of destruction on an ecological level. We're working with people who really do want a better way. That's the key."

Finca Santa Estela, where Choco Sombra purchases its coffee, is a standout plantation that has been in the same family for more than 85 years. Hamilton Vidurrizaga owns and runs Finca Santa Estela. Hamilton has taken half of his acreage out of production and set it aside as wildlife preserve. Native plant species provide shade for his coffee plants and provide habitat for wildlife. Finca Santa Estela also provides a school and a medical facility for the plantation workers. Perhaps most notable, Hamilton was the one person open to working with Mike when he approached a group of local farmers with his direct-trade proposal.
It comes down to proof and trust. Mike has had to prove that he has a good economic model with a market for premium quality coffee. The goal of a coffee farmer is to sell their crop, but as a landowner, the goal is also preservation. "We seek to build a better economic model and create a different motivation," Mike says. "As long as the farmer can take care of his family and he is not desperate, he will feel he can afford to take care of the land. People will choose a better way if it is economically viable."
Choco Sombra coffee is available at the Common Market in whole bean and ground varieties.