Mend Your Hormones | Improving the Metabolism
November 15 @ 5:00 pm

-

6:00 pm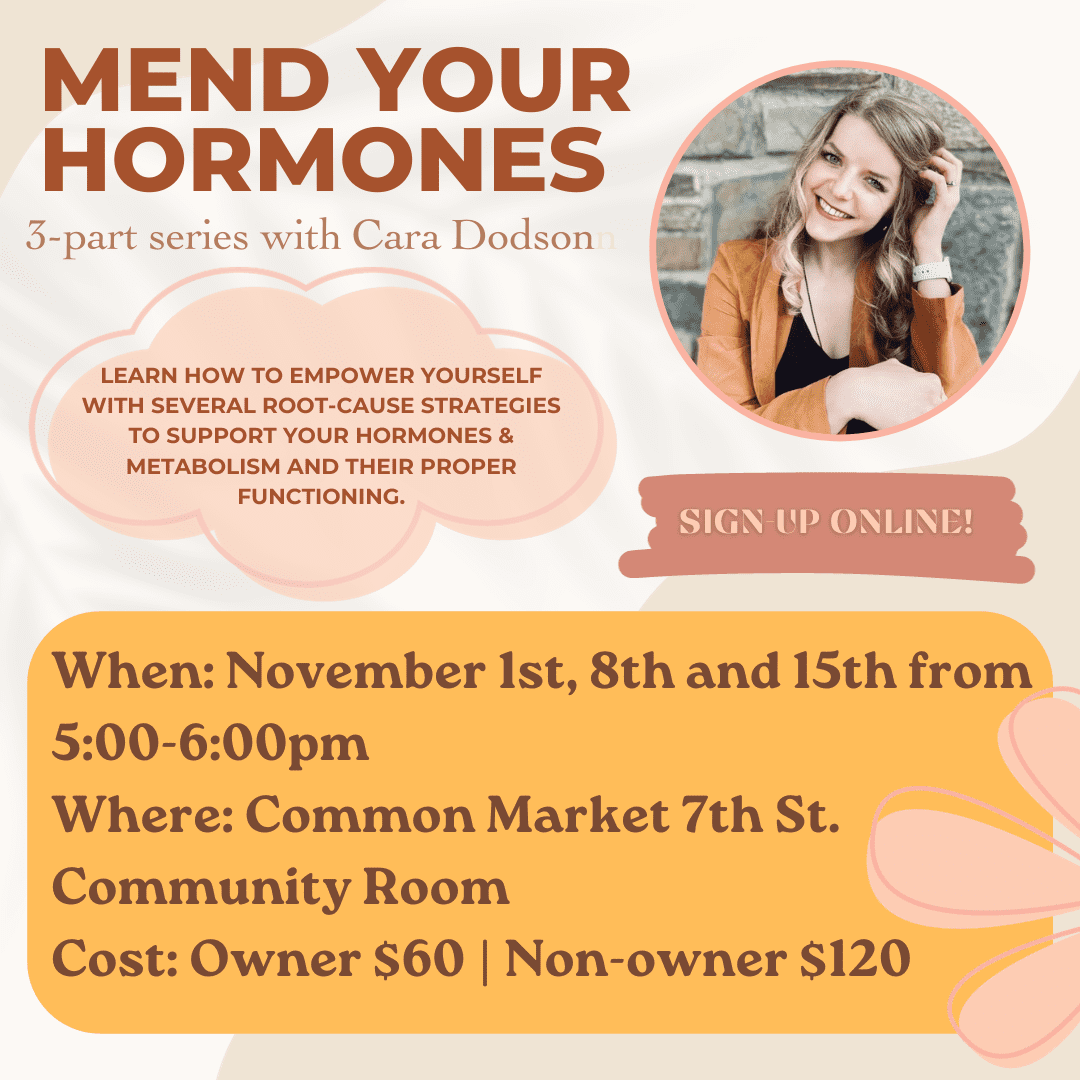 Having a thriving metabolism is KEY for having healthy and happy hormone functioning. In this Mend Your Hormones course, learn how to empower yourself with several root-cause strategies to support your hormones & metabolism and their proper functioning. From learning about hormones and metabolism to understanding how your body works biologically, you'll be able to incorporate easy, sustainable healthy habits to better your metabolism, hormones and overall health at a cellular level.
In this class, In this class, you'll learn how to support your hormones by improving the rate of your metabolism along with step-by-step guidance towards how to heal your hormones at a sustainable level! You'll learn about metabolic markers and how to accurately track them yourself along with how to implement eight key principles of metabolic functioning into your daily living. You'll actively participate in a metabolic marker demonstration and how to safely complete at home to establish deeper insight for your hormone functioning. You'll also be able to implement 13 action steps to enhance your hormonal functioning along with actively participating in a live demonstration on how to make nutrient-dense foods to support your overall health. Together, we'll connect the dots of managing your hormones with implementation of sustainable techniques and establishment of health habit practices.
Cara Dodson is a licensed occupational therapist, certified nutrition health coach and owner/founder of Cara Dodson Wellness. Her mission is to free as many women as possible from food obsession, help them restore their metabolisms with root-cause healing, heal their relationship with their bodies and self, restore gut health imbalances, reduce internal and external stress, increase empowerment with their bodies, balance hormones, and build energized and healthy bodies in a way that looks best for them.
***This is a 3-Part Series to purchase ticket please click here!